totaly inspired in seattle, totaly burnt out in one week back in sioux city :P
man, what a drag.
any how, trying to keep my head up. ive got like 35 days till im done working here in sxc and still have yet to cement another job. im not to worried about it. just keeping busy with other things and not thinking about it. its so much hurry up and wait it could kill a guy. but if thats how it is, thats how it is.
any how heres some of what ive been up to.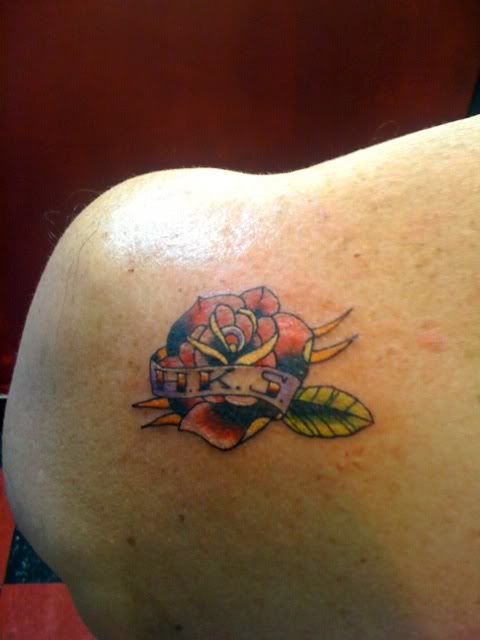 a quick rose with grand daughters initials in a banner for a barber who works just down the street.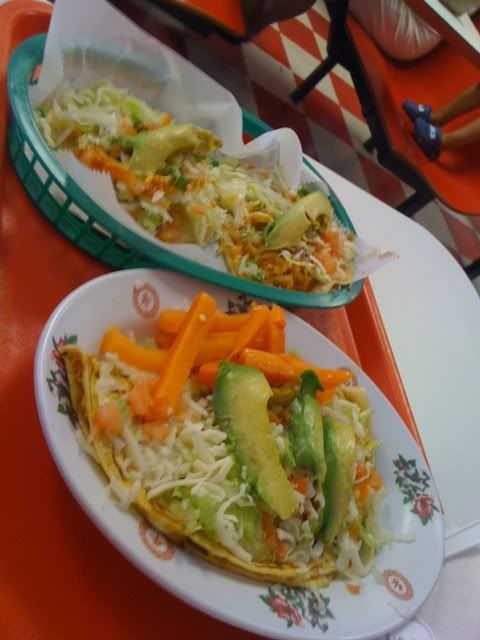 some tastey chicken and avacado kasadilla and vegi taco action from juanitas :)
and of some KFC, no need to church it up with that KGC non sense. our stove/ over is out of service. so until we figure out how to effectivly make fried chicken on a grill this is going to have to work.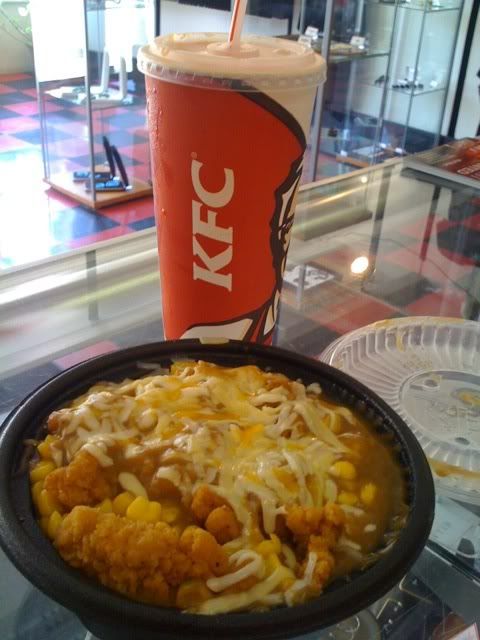 evidently the kfc bowls are the most unhealthy thing in fast food that you can order. it is how ever one of the yummy-ist things you can order :)
at work sean did a corset tempt project on this kids head. a mohawk that truely is metal :O here he is cleaning up before lacing it up.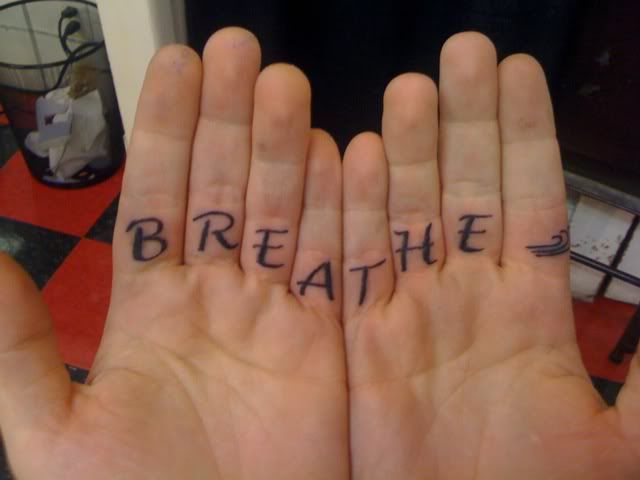 and karma paid him back when right afterward i tattooed the inside of his knuckles :O
we had talked about how you subliminaly read your tattoos all day every day, so having something positive or calming in a highly visable-- to you-- area. would in effect be broadcasting that message to your brain all day.
we'll see how that works haha. either way it was fun :)
my moms had this print long enough that its this fadded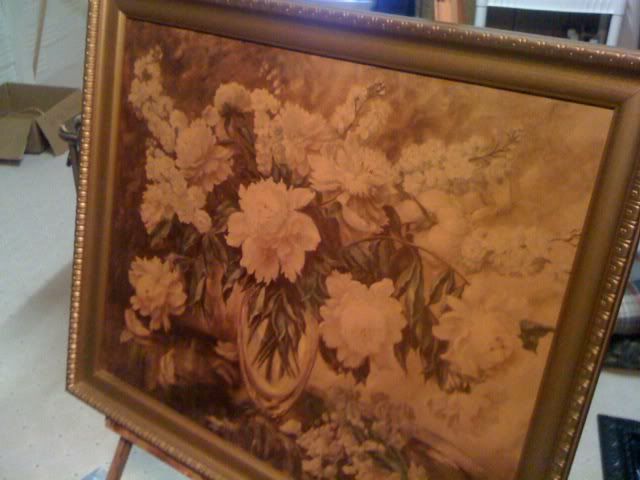 so i took 20 minutes and painted it bright again. i tried to do it with a less opaque pigment in effect using the old painting as an underpainting. it was hard to get shots of at night in my studio but i think you can see the difference :)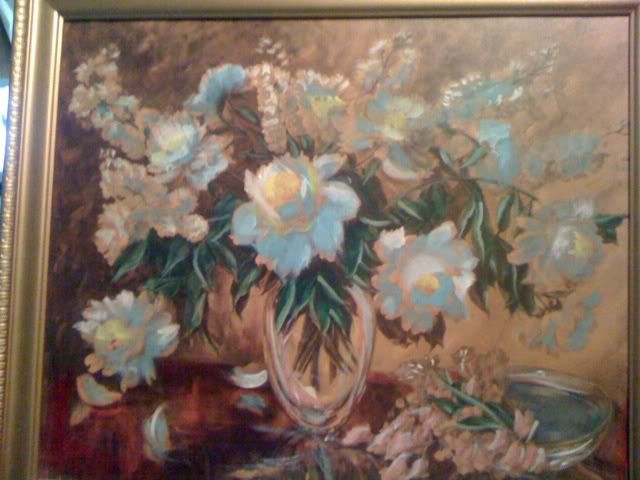 later on mike and i went on a mini road trip to omaha and stoped off to see my girlfriend, whos hands happend to be featured in the tattoo im doing on his arm :)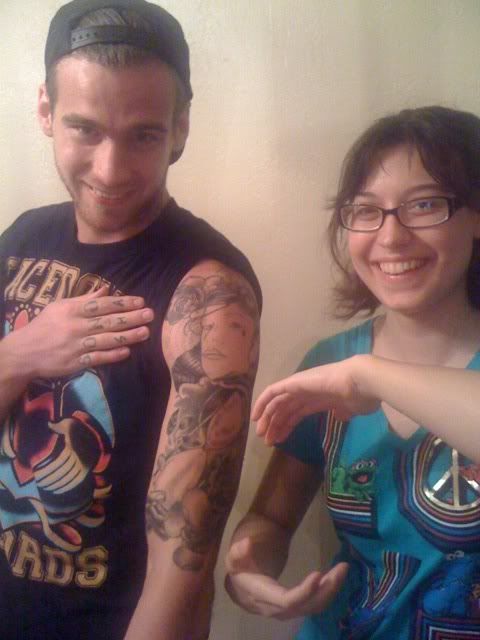 mikes band , For Today, plays tomorrow night in sioux city so im excited for tons of people to see his new work onstage.
on my day off i started on this painting, its the last big piece i need to get my count high enough for me to feel good about a solo show. its been a goal for the last few months. i might be 3 or 4 months late in the completion but whatever. itll happen :)
and a little further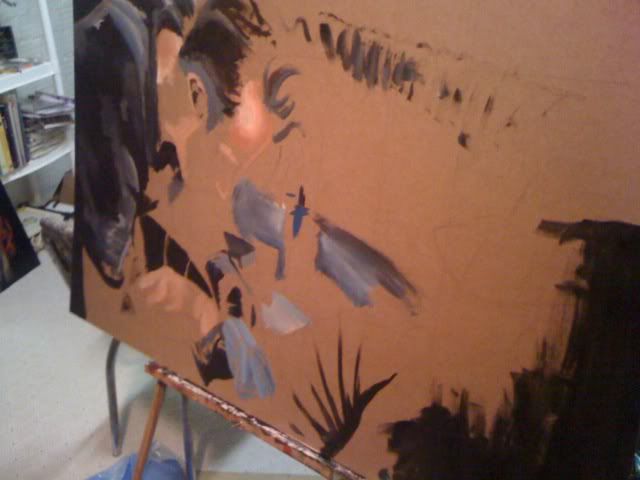 on the note of painting, Jeff Gogue ~ gogueart.com ~ just put out a new extremly limited edition book full of his skulls. its super high quality and an artist definantly worth supporting. also some preety rad t-shirts :)
and to end the post a tattoo i did today, yes that is an ex husbands name void stamped out.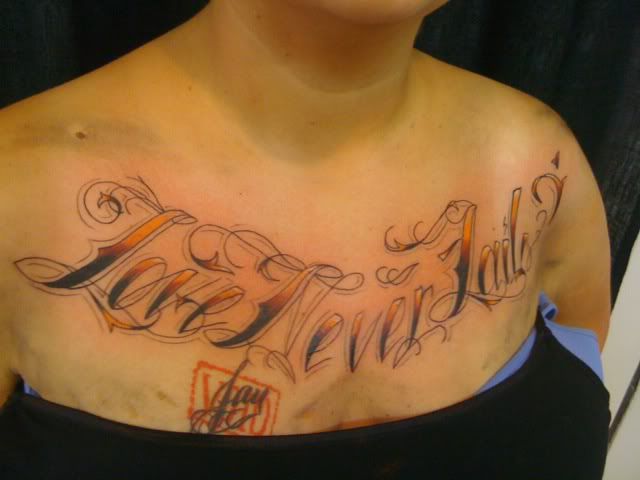 needs one more pass to skulpt a few lines out but good enough for a blog ;)