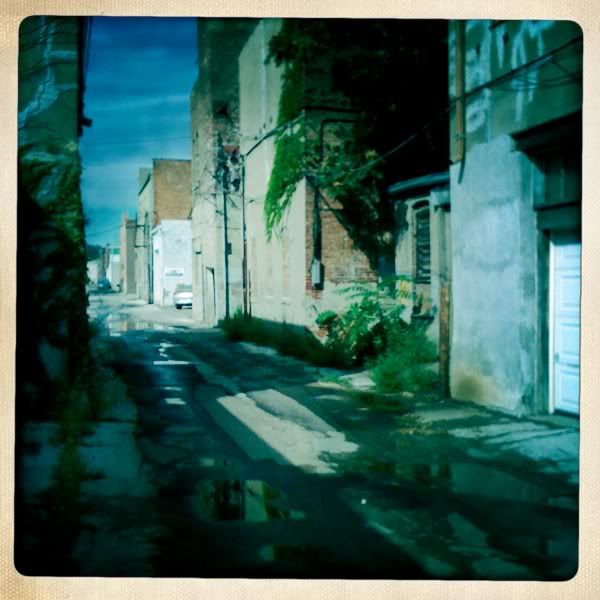 With the things you've been saying, I don't even want to talk
hey guys, had a few appointments cancel and seeing as its expected to rain up to 4 inches today , whoa, i figured id have some free time for a post.
After time and time again of checking jinxi's blog and seeing what i read as posts saying 'quit your job and be happy' i quit my job a while back. monday is my last day at my current shop and im proud to say i will be now working with my friend Jason Solomon at a brand new shop he is opening in the morningside area of sioux city! 'addictive tattoo' kinda got a nice ring to it eh?
its a brand new shop and ill be working with people ive known, worked with, and gotten along with for quite a while. im really looking forward to it. Im sure ill be posting a ton of photos when im all in and set up, but right now walls and floors are all torn up and its a bit of a mess. but with an opening date of oct its being taken care up in a pretty swift manner!
along with the new shop im starting to compile work for my new printed/ bound / updated portfolio to print at the beggining of the comming year. i havnt updated anything not online in quite some time so its diffinantly over due.
so, with that said. hers some photos and rambling of whats been up :)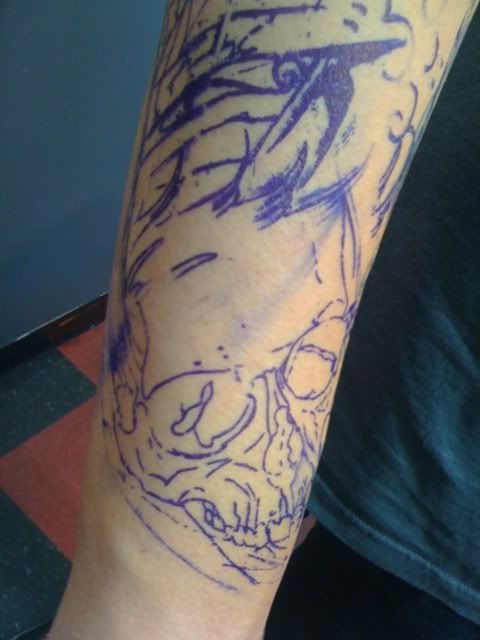 i've been trying to put almost double the amount of prep time i normaly would into my tattoos lately trying to push them a little further even if i dont like the idea, or its sorta simple. if i can behappy with a simple tattoo that i dont like then im sure to like my larger more involved work that comes from it. sadly enough it makes it preety heart breaking when you do all that work only to have them want you to trace there scribble and tattoo it on them verbatum. like the stenciled skull/waves/ pirate ship above that didnt happen at all.
but it made a cool photo,so oh well. its not my arm.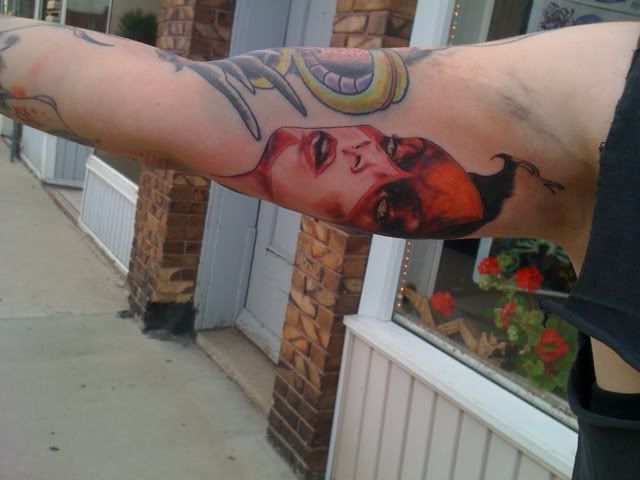 that being said some people are awesome, like my client Fish. here is a piece of hers in progress :)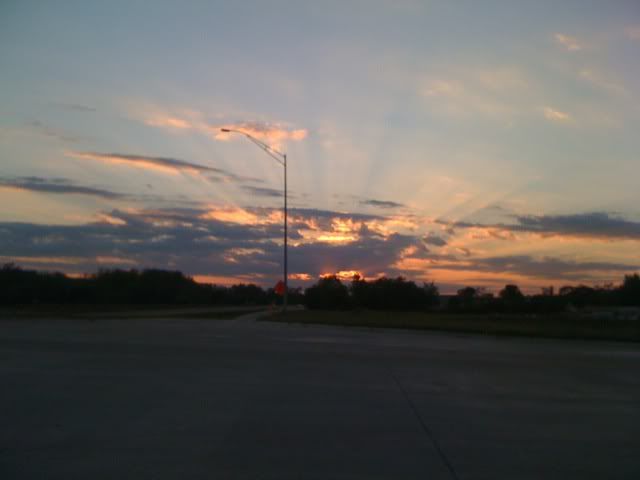 epic sunsets make my happy for my drives home, and make me wonder with beauty like this how any one can question a divine being being involved. but i still love you even if you do question or disagree. :)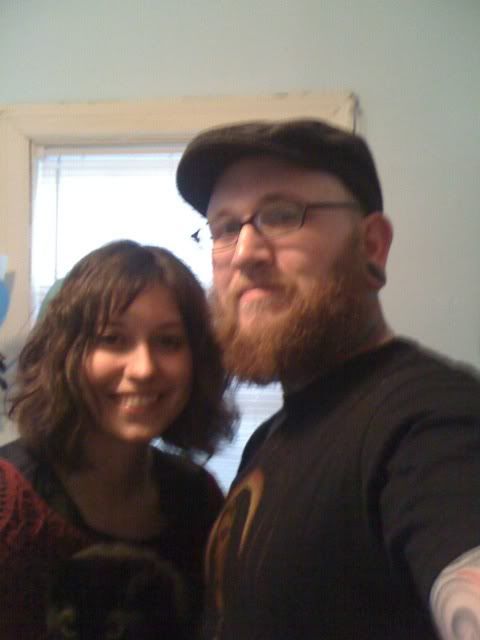 on the note of good looking things...haha. sarah has been putting up with me for an offical 1 year so i took her out for the evening. you cant see much in this blurry photo but we look preety snazzy. trust me, haha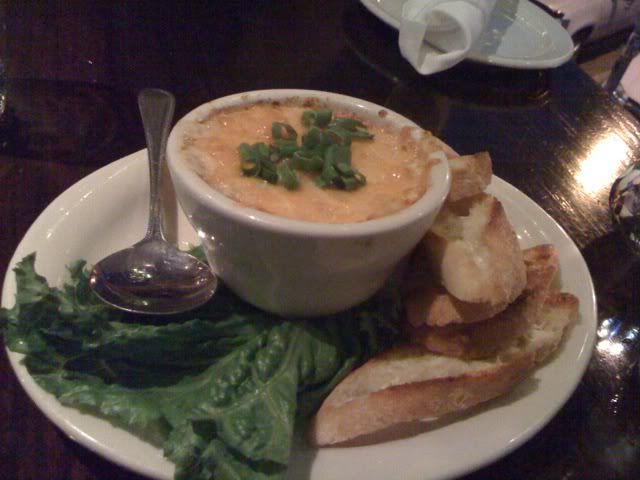 we went to a preety fancy restraunt with an epic sounding menue, like the cheese and blue crab dip above. but over all it was preety bland. i was preety bummed out at the lack of really any flavor. id rather have bad tasteing food then non tasting food. but at least my view from my side of the table was good.
the next day my best friend Audi had her fashion runway show as part of Omaha Fashion Week. you should good it, or check out audis etsy pages on my side bar.
i figured a sundried tomato bagel with vegi cream cheese and capers couldnt be a bad way to start the day off.
i helped her get her garments from her giant studio to the venue/backstage. this is just a glimpse of some of it on the racks. so amazing! her work is always inspireing.
and picked up my ticket, how offical is that!
after getting everything to were it needed to be i met up with sarah and headed to California taco, as seen on tv's dinners, drive inns, and dives! for a little pre fashion madness dinner. their re-fried beans are soooooooo good!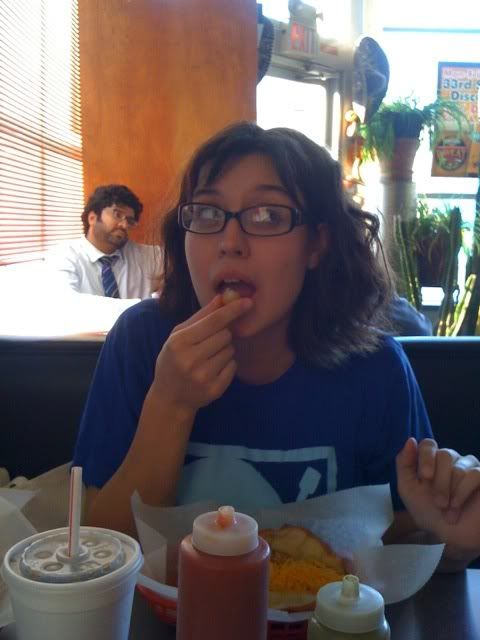 sarah prefers the potato ole type dish.
getting ready to go!
honestly so inspired and rilled up by her show that ive dusted off my machines and sketch books and am diving back into designing garments. hopefully ill be productive and have my own show at O.F.W. 2011!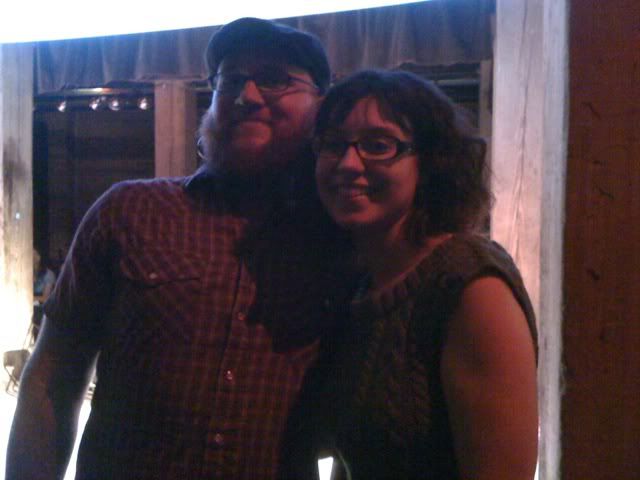 sarah and i, post show. you can see the dress shes wearing better over on her blog. located on my side bar under sarah baker doing crafty things. she designed and knit the entire thing!
Audi and I, homies for life!
all excited for sewing and creating i headed home.
along the way my brother sent me a picture of his growing baby girl, and his growing fall beard. both preety awesome.
when i got to work i turned around to see a whole string of stock model A's cruising down the street. i didnt get a good look but one of them had a flyer on it. im asuming its part of some sort of orginized drive. the model A's clubs will occasionaly have a drive across the state or even just the local area's. some have a scavenger hunt set up, some just cruising and others are poker runs. preety great either way to see them out putting around.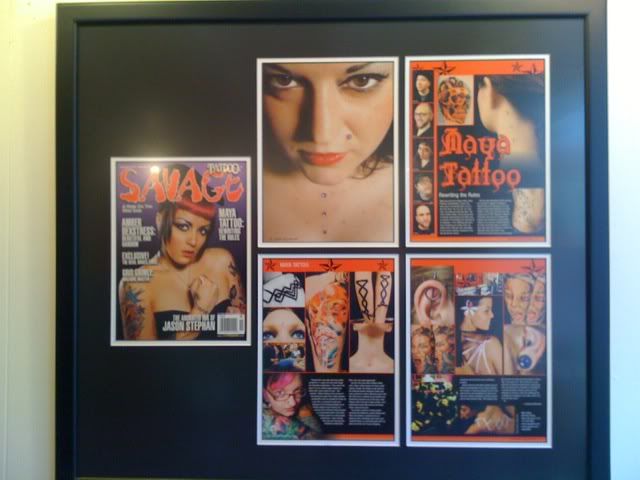 once inside i saw that our spread in savage magazine was framed up on the lobby wall.preety snazzy if i do say so myself.
mike stoped in and i got a healled shot of his owl, and did a few teeny touch ups on the roses.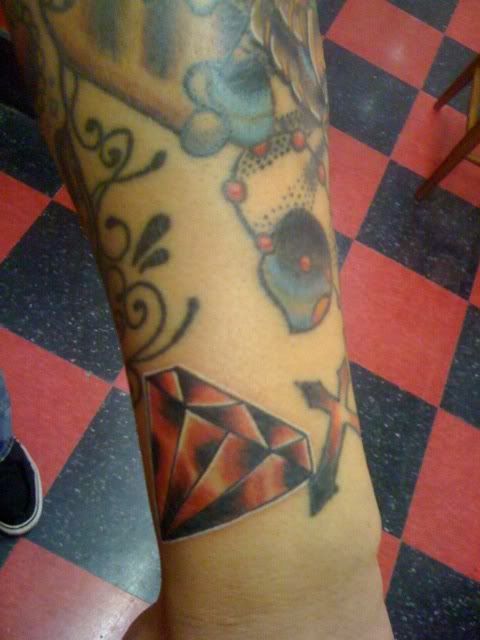 i also threw on another diamond for him, gotta have the bling i suppose.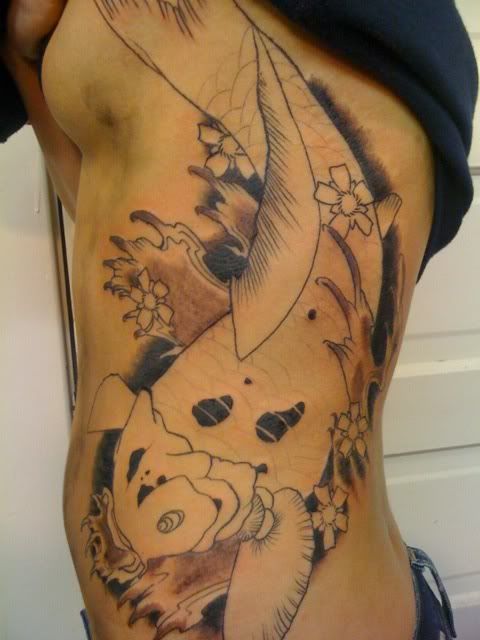 he ran home to grab something and got in a minor car incident but he and his g/f were fine and she sat threw her second sitting on her koi. its a little distorted in this photo because of the way shes standing. but for only having one teeny other tattoo shes seems to be sitting like a champ! really looking forward to seeing this one finished.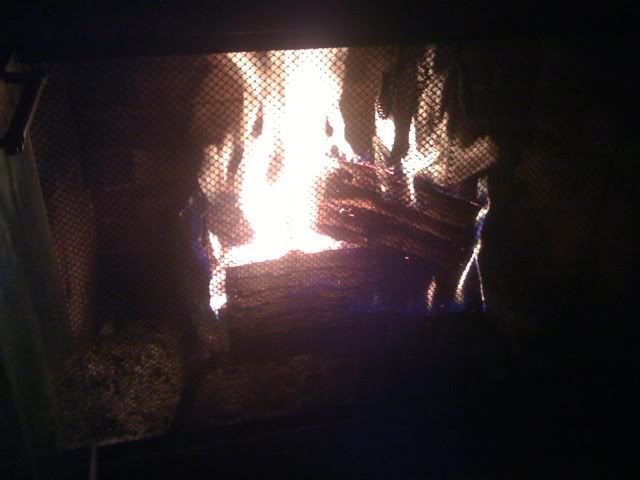 last sunday was down right brisk at around 40 degrees so before work i loaded a couple cords of wood onto the front porch and told my dad i expected a fire in the fireplace when i got off work. i was not disapointed!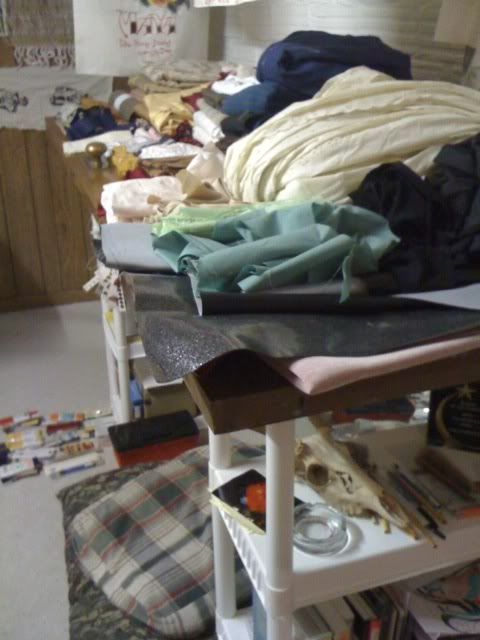 this week i also started tearing down painting supplies in my studio and re-setting up for the next year or so of sewing madness! it took me nearly an hour to un pack stored fabric, and i even lost about half of it in a basement flood a few years ago :O here is my new shelf i built out of a giant oak door that is original to the house i live in, and my pre existing shelving units. it ended up creating a little cave hide out under neath also.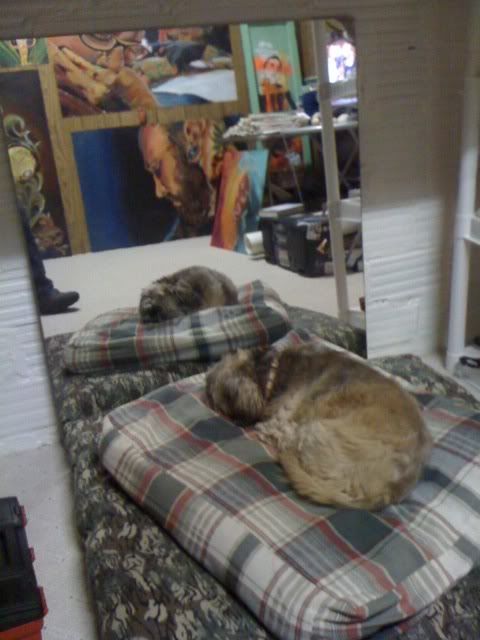 here is Buster testing the cave out. looks like it passes inspection.
it took a while but i unpacked my zippers, nearly 1000 if not more of them! im always welcome to yardage of fabric, piping, zippers, buttons, skulls and sea shells as tips. heck i keep them all on the same shelves as seen above!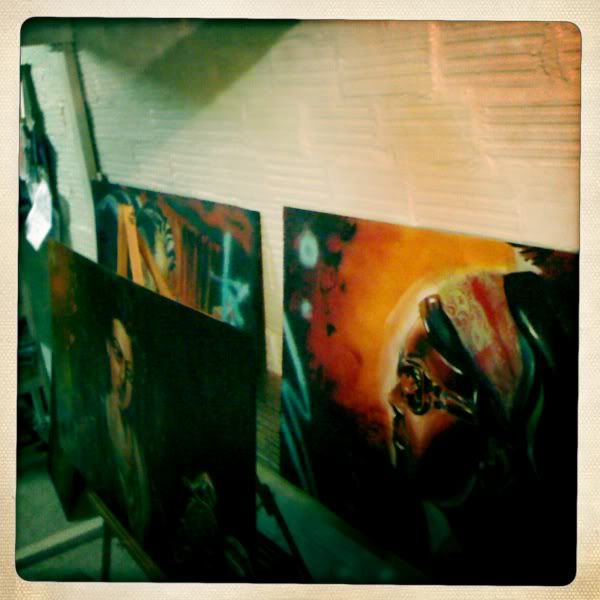 moving all the stuff around i ended up taking over the ajecent hallway to store paintings so i would have room for dress forms etc in the future.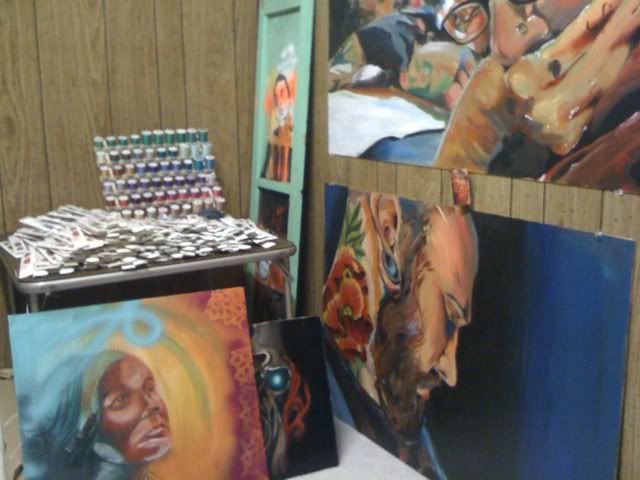 just stacken em up, haha. you can see i also will accept spools of thread as a tip.
figured after that we needed to relax a bit, so we started digging out old matchbox car tracks and launchers and putting them together.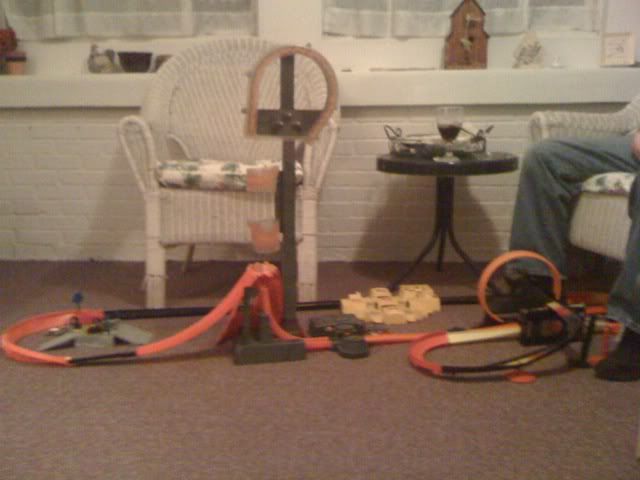 and then about an entire delivery pizza later anda jug of coke we started connecting them together, awesomeness!