sorry for any re-hashing of already posted info as ive just copy and pasted this from my post over on the hamb :)
"Im getting married, project 46 ford begins!"
Well every once in a while you get lucky and things just come together, evidently I got real lucky haha.
This being the HAMB and all Ill get the non car stuff out of the way first ;) I some how ended up finding a girl who loves to travel, create things, 36-39 fords, mild customs and puts up with me on a daily basis. Obviously I must not let this one get away!
Staggeringly she said yes haha :)
So I suppose I need a cool car for the wedding right? So here is were all the car stuff begins.
I have wanted to build a 46-48 ford with two doors in probably any body style for over a decade. Spending tuesday nights watching the tool man build 'the hot rod' and then the 46 vert I was hooked on those fat fenders. Always keeping an eye out for one I never seemed to see one that some one was willing to let go of. Maybe every 5 years one that was just to far gone or just way out of my price range.
With that floating in the back of my head the last decade and a half when I started helping a neighbor down a few blocks get his cherry 39 ford standard v8-60 tudor ready to hit the streets again those curves realy brought everything to the front of my brain.
Sarah<-- the 'lucky' lady that gets to deal with all this car non since for the rest of her life ha, was helping us one afternoon when it was brought up that he was looking to possibly get rid of the 39. With a lust of curvy fords strong in the both of us we tried to make it happen, but the chips were just stacked against us. In retrospect the car just wasn't the one for us.
But with thoughts of having a car that was not only in your engagement photos coming together, in your wedding photos taking you away, but having even the same car bring your kids home from the hospital years later was just to stuck in her head...ok mine to.
So every day I came home to new craigslist leads she'd found and eventually the sickness took over and I was full on looking for something old again.
Trying to find an 'vintage' car dealer in Iowa I had sold a car to about 10 years ago thinking maybe they would have a good inventory is tumbled across a website full of listings for old cars for sale from that type of dealer all across the country.
Some quick pursuing and I found a burgundy 48 long door super deluxe badged coupe. Price was a little on the tall side but it seemed to be a runner with shinny paint that we could just make a little more our own.
It was however in Milwaukee, and the thought of dragging a trailor 9 hours one way to find out if the car was good or not was a little daunting.
But then genius struck! Weren't we headed to Little Rock this next weekend to see the future in laws? And isn't Salina, which is "only" 360 miles out of the way also this weekend?
It was obviously a sign, haha. I figured that with all this chatter about this KKOA show I'd never been to that there was no way the infamous BobK wouldn't be there. The bearded one himself also happens to hail from north of this Milwaukee place. So a quick couple of phone calls and Bob sorts out the car getting looked at for us and we agree to meet in Salina.
Then the bad news. the car. in a word. is crap.
drip rails rotting off the car, inches of bondo on the deck lid, and a floor made of loose road signs. A total wreck that had quickly been sprayed to hide all the flaws and labeled "previously restored"
It was a massive bummer but it was so much better then one found looking at the car after driving all day to look at it. The power of the HAMB used for good once again. It was a good time to talk about how I enjoyed buying cars that had 50 year old paint or no paint at all on them anymore because it couldn't hide anything and you knew up front what you were getting yourself into.
Anyhow we checked out the show for the day, got some tastey eats and spied some rad HAMB rides. Had a pretty good time and even bumped into Moriarty who told of us of another coupe for sale.
Finally in Little Rock a few days in Sarah recalls another 46-8. It was black and didn't run. But wasn't it was less money? A quick look and its a 46 tudor deluxe, v8 3 speed with a clean title.... in Kansas City... scary close to where we stopped to get gas on our way down! How had I not seen it? Had my old car spider senses been clouded by tastey tastey KC BBQ?
A few phone calls and we set up a time to check it out on our way home in a week. I spent hours and hours pouring over the photos posted online looking for flaws and trouble areas to look into further so when I got there i wouldn't be blinded by old car excitement<-- which is not all the different then beer goggles ha.
It had some dings in the fenders, maybe a rusted hood, and some tweaked bumpers.
Im ready.
So after 4 or 5 hours driving we reach KC and the car and unbelievably the car is better then it looked online. In the day in age of "myspace angles" thats nearly unbelievable.
Two hours of crawling over the car and Im sold, the interior is roached, the fenders though better then online have some dents, and there is a small hole under the pedals. But all the glass is good, the paint is just fine, the rest of the floor is great and the frame looks better then the late model pickup most of us drive every day. A perfect start for certain.
We needed to get some things in order first as we didnt expect to find something quite so quick. The owner put it aside for us refusing to take a deposit on the car saying that he'd rather take my word then my money.
On the way home I made so many texts and phone calls securing space and etc that it was not unlike a telethon fund raiser.
Sarah was over the moon excited about her first old car, and the memories we would make with it. It was decided that it was perfect timing as I really needed something to keep my mind off all the stresses of planing a wedding, but at the same time would be contributing an entire car towards it. Sometimes things just line up.
Anyhow a few failed truck and trailer arrangements and Sarah's parents agreed to pick up the car for us on there way to Omaha for her white coat ceremony. Did I mention in all this wordiness that shes in med school to become a Dr. ? I really should go buy a lotto ticket with this sort of luck haha.
So while working on my days clients and constantly checking my phone for update texts, fearing the worse every time. I finally got a picture of the car resting in the shop :) I can take a huge deep sign of relief!
I haven't gotten time to start tearing into it yet as I had to leave straight from work to the aforementioned ceremony in Omaha, so until I can make it back home I thought I'd put this post together to start off what will be my build thread of the 46'. :)
ok, so you deserve some photos at this point for putting up with all the chatter right?
right.
the car as we found it in KC, looking at the pix the KC ones make it look rougher then in person and the home ones make it look better. so just imagine a good in between ;)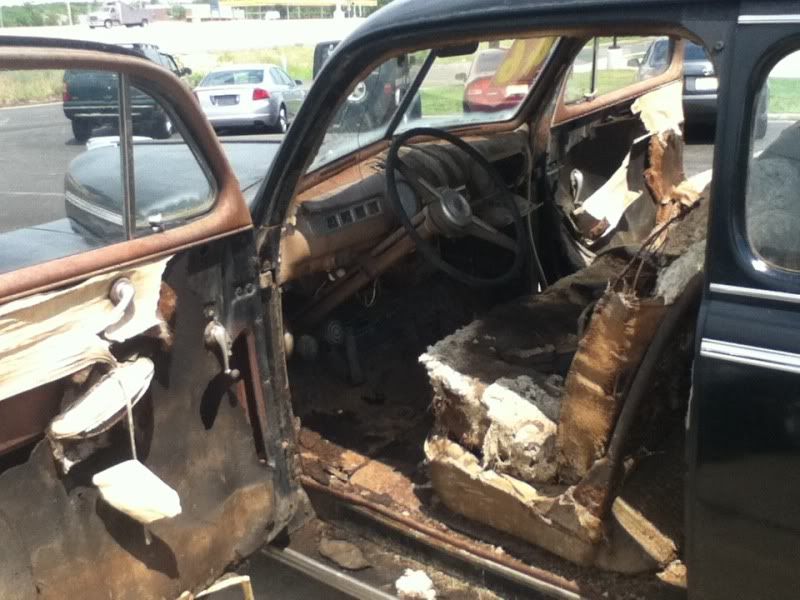 roasted? just a little but its complete save for a passenger side inside door handle.
Sarah practicing her Vana White pose with the car.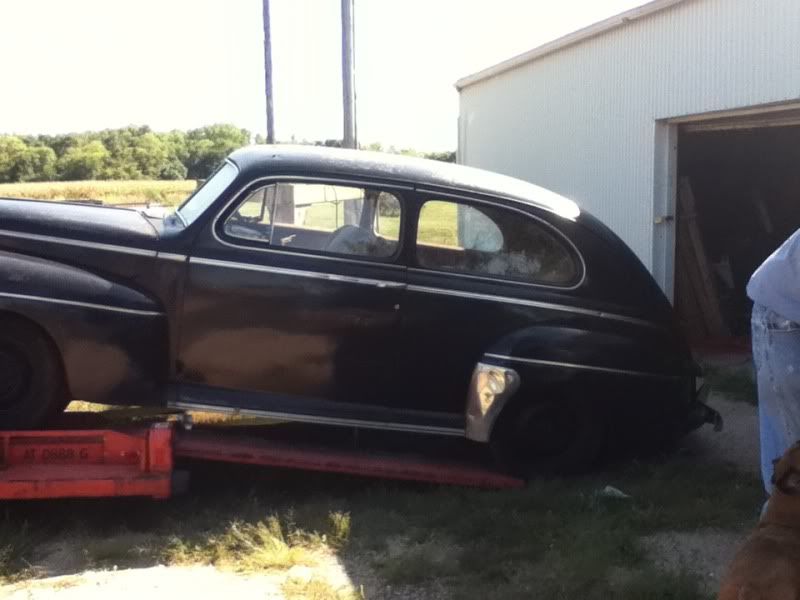 as easy as 1
2
3!
3.5!? ha
that winch sure came in handy, letting the car off the trailer nice and controlled and then mounted in the shop on a steel 6x6 and pulled into its parking space.
looks good!
No the car isnt half scale, my friend Matt just happens to be an easy 7 ft tall haha.
So the details, the plan.
I know everyone wants to be cool and run the flathead, been there and done that. I wont deny that its the best sounding motor that I'ver heard but with 85 hp new and nearly 0 mpg it just wasnt going to cut it. I drive around 600 miles a week just going to work and living life. I need more power, better mpg and honestly to be able to find parts to fix it just about any were.
That's going to be a huge theme in the way this car goes together, simple to work on, extremely easy to find parts for, and reliable.
So as we all know plans tend to change quickly so the rough outline for now is a C.E. rear suspension set up with a new rear, a 350/350 power train, disks up front, a dual master under the floor, new wires hoses and lines on everything<-- that should have been a given, and what ever it takes to get it on the road safely. I've got until Oct 20 2012<-- the wedding date, to get it driving and shook down. With a possibly unrealistic goal of getting it done early and driving to NoSurfs HAMB BBQ in April. Im used to having a waaaaay shorter timeline to work with. So with all this extra time Im most definitely going to take my time, and it do it right the first time. Non of that "ill do it like this to get it on the road for now" stuff.
I've built this car at least a hundred times in my head over the years and am very excited to post and share the progress with all of you that have really in the end made it possible.
keep tuned for updates!
** side note: that DOES mean that the very complete v8, the 3 speed manual trans, torque tube, rear axel, rear wish bone, rear brakes, rear spring and rear track bar/arm are for sale, id like to sell it all together as a package. Itd make a perfect drive line for a 30's ford hot rod. pm me for further details and keep an eye on the classifieds for an ad if you can wait :) ** ~side note to the side note: the motor is only missing the starter, it includes the generator and all the brackets as well as the voltage regulator off the firewall. the motor doesn't seem to want to move grabbing the crank pulley by hand trying to turn it but given how extremely rust free and nice this car is I wouldn't be surprised if it was easily freed up.