sometimes its just what you need :)
I hitched a ride down to Omaha and Sarah and headed south! It has been blistering hot out so the thought of going further south sounds a bit frightfull but i figured it cant be MORE humid, and the billion hours of driving will be air conditioned.
pack the cooler and lets go!
We past threw Lincoln and down into Kansas down to Marysville Kansas to see some of Sarahs relatives. Nothing to exciting but i learned of a mothers-day weekend BBQ competition/ car show that sounds like fun, and saw some preety tremendous lighting for hours and hours.
Figuring we were already in the state Sarah granted me a 'slight' 360 mile detour... to KKOA's *Kustom Kemps Of America * lead sled spectacular!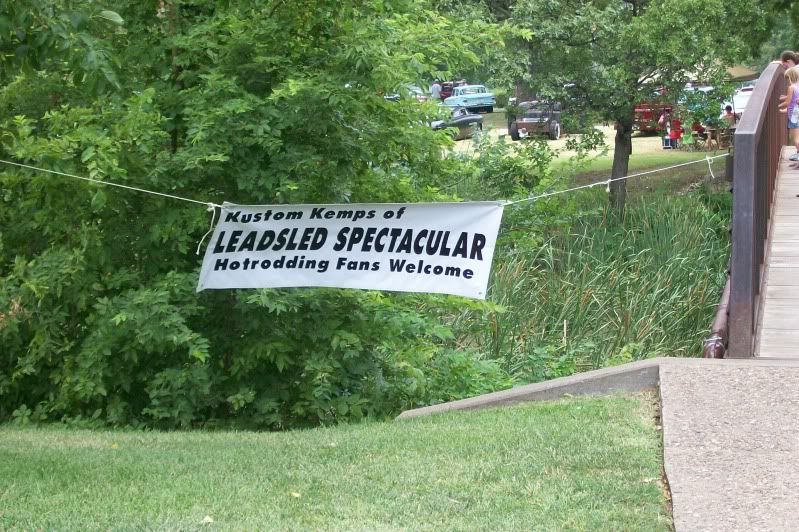 When I had seen that we were going to be headed to Little Rock via Kansas I got on the HAMB to search for some "if im in KC what should i do?" posts and stumbled apon the fact that we would be in the "general area" the same weekend as the show in Salina. I'd never attended the show but had heard that it was one of the top two shows to hit every year if you are into traditional hot rods and customs. Its more of a custom show but when i saw that people from as far as portland oregon, miami florida, L.A. california, just all over! i knew i had to go.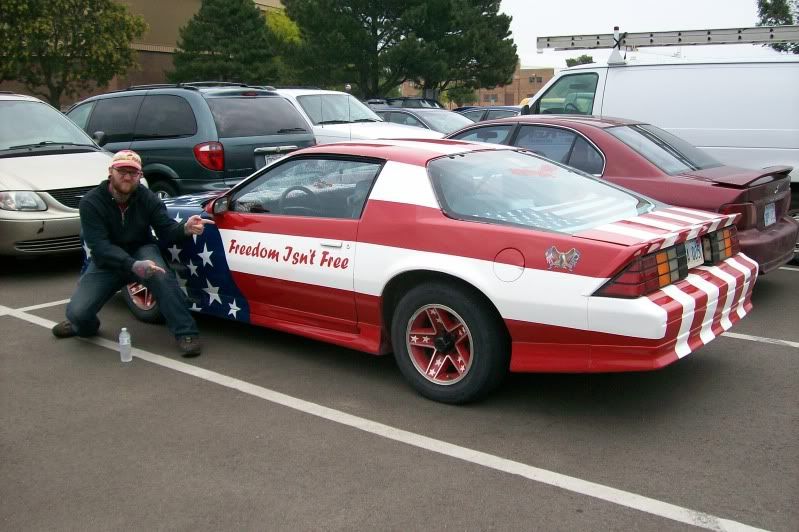 after seeing cars cruising the main drags and seeing the sign i was bouncing around like something out of a cartoon full of excitement and as soon as i jumped out of the car in the parking lot this is what we see! Oh. My. God. haha, AMERICA! right? haha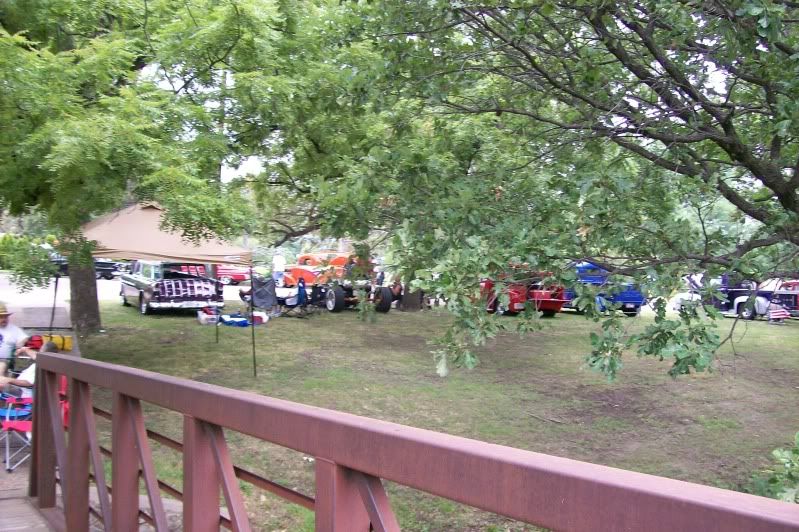 we headed over the bridge into the show and caught a preety good eye full of what we were in for.
the show is held at a park so along with plenty of shade trees there is alot of trees/water/tall grass blocking you from realy seeing anything until your already in. kinda cool.
we didn't take a lot of photos figuring that we were only there for friday afternoon and more, read better professional, would be posted on the HAMB later on. So what we shot is some what random. Sarah was on the look out for kool interior ideas and dug this early 60's oldmobiles threads.
as well as this little studebaker sedan.
we both dig shoebox fords, louvers, and this sorta burgandy color so taking a shot of this 49' ford was a given.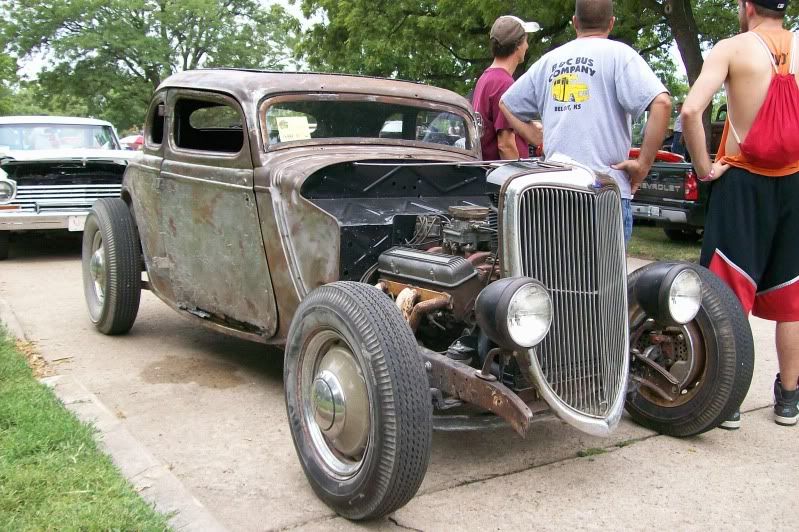 and this bare metal 33/34 ford 5 window coupe with small block chevy v8 power. well that was all me. i wish id taken some more time to look it over it seemd to have some cool details including having the front brake backing plates drilled and chromed what looks to be several decades ago. rad :)
and Sarah added another name to her list of small old cars she craves, this new addition being a 40's ford Anglia.
i actualy had to look at the tag to see what this truck started as ~a mid 50's ford F truck if your curious, preety amazing.
but my jaw dropped threw the floor when i saw what was next to it...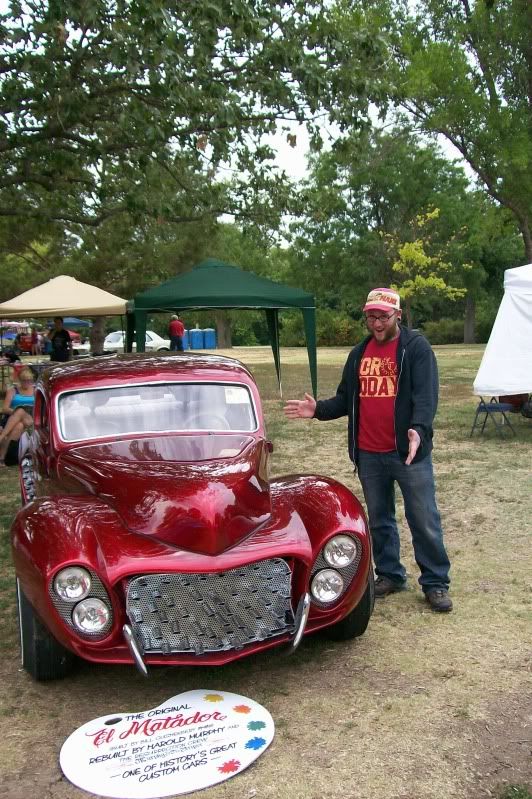 EL MATADOR! not a clone, not something inspired by. no, this is the ACTUAL car. WHOA
yeah like in all the hot rod magazines in 61 EL MATADOR, whoa.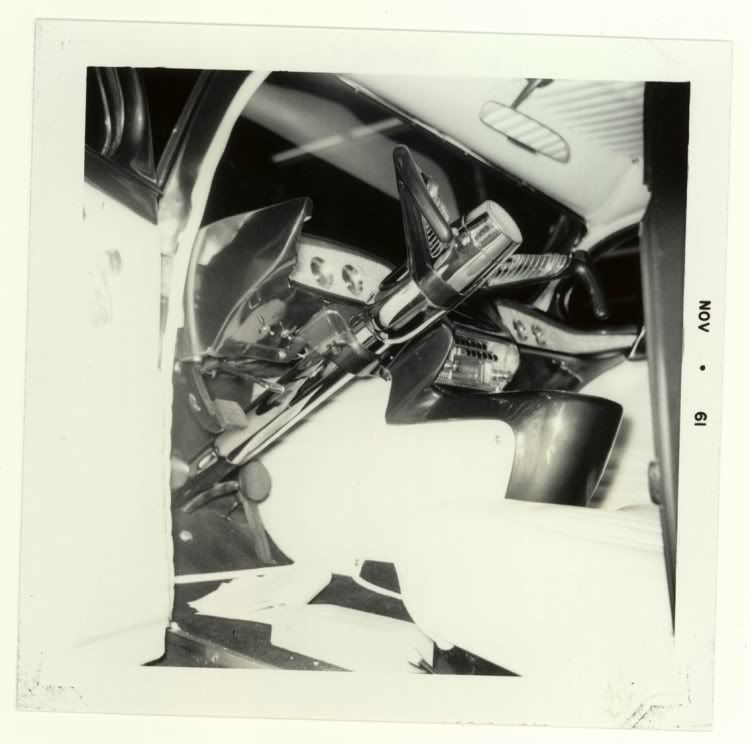 i stole these pix off the net but the owner had a giant portfolio of all the magazine and news clippings of the car as well as the AWEFUL shape he found the car in before more of less reconstructing the whole thing back to new.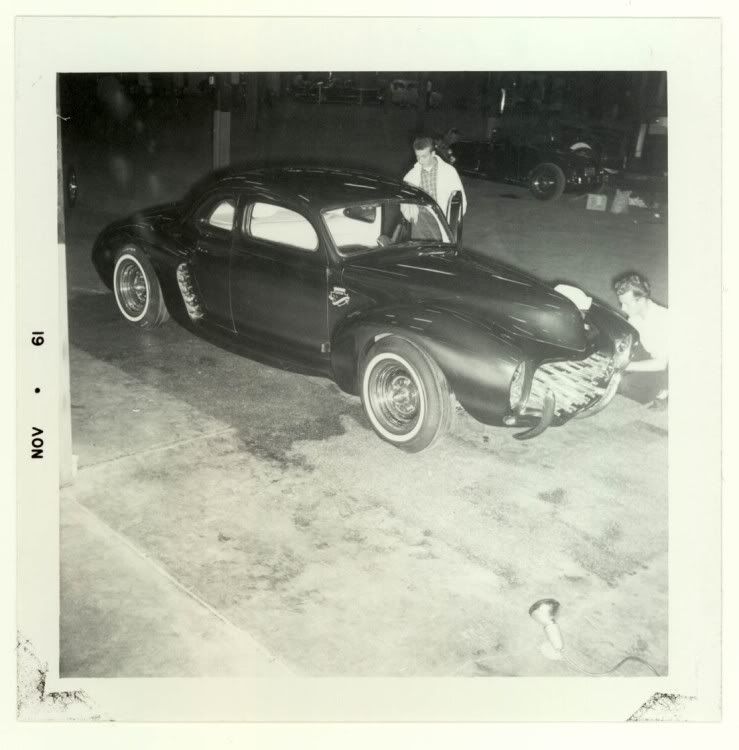 honsetly ive never realy been that into these super wild customs. but i dont know, something between seeing it in person being much different and, well, actualy seeing it in person. parked on the grass and cruising down the road just makes it all different. this is a car you see in books or if it still exists in some car museum. excited to see it would be an understatment. color me nerded out. haha.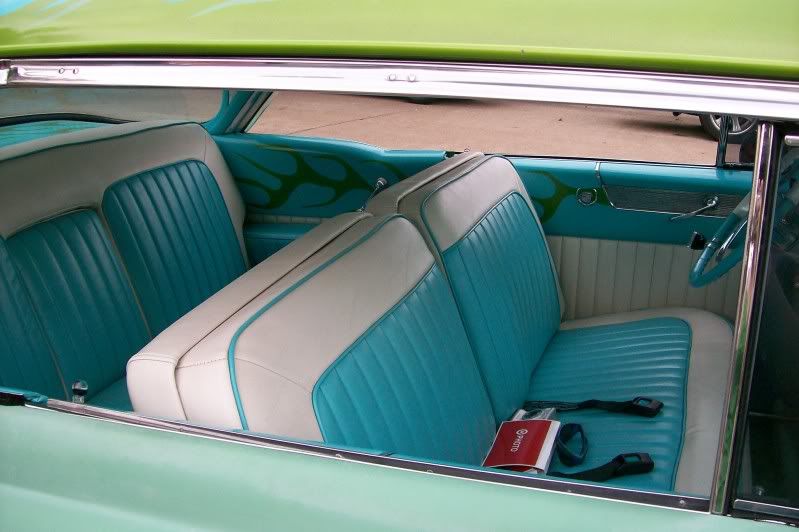 another interior shot, this time from...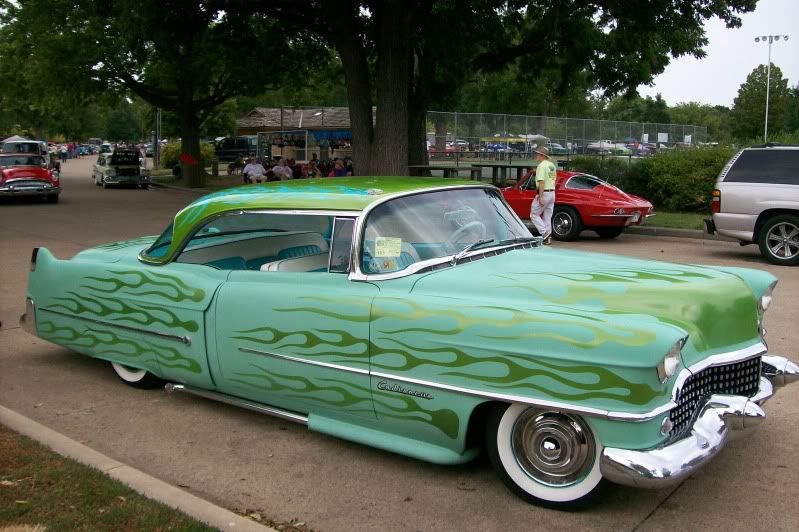 this awesome Cadillac, it was one of a pair from colorado two brother drove out. both cars completely different both total jaw droppers.
a seemingly endless line of 49-51 mercs and we took photos of.....none! we did however get a shot of this snazzy 46 merc vert though.
of course we had some tastey food at Bogey's before the show, what are we supposed to starve?
haha, after the show we motored on threw some rain to St.Jo to hunker down for the night before headed to KC int he morning to see one of sarahs friends and some BBQ :)
like were going to KC and not getting BBQ? right lol.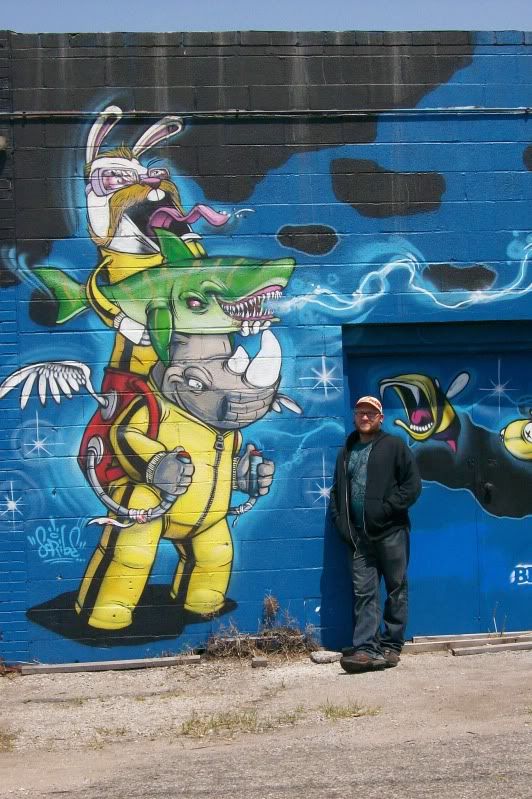 before eating though we did wander around a bit threw some antique stores and a quick walk threw Freaks on Broadway to see the remodel. haven't been there in years the place looks awesome :)
anyhow, we stopped for a minute and took some pictures of this awesome graff piece the infamous Scribe had done.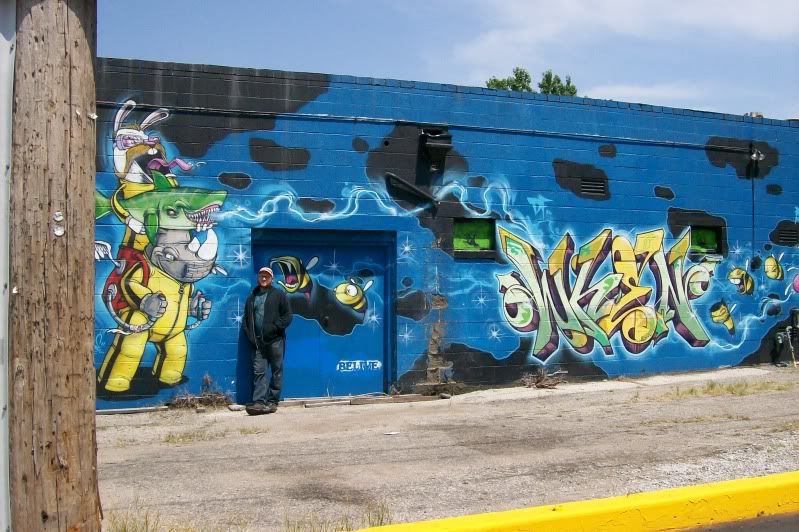 a little further shot, the whole back of the building was covered with Scribes work and the sides and front were another artist I'd not heard of. It's actually a martial arts studio, cool.
a quick drive and a good 25 people in front of us we finaly got far enough in the line to see the door into OK Joes BBQ. roughly 35 people in line outside and another 70 ish inside. this had better be good!
lol thats one way to rate hotness i suppose
line was ridic!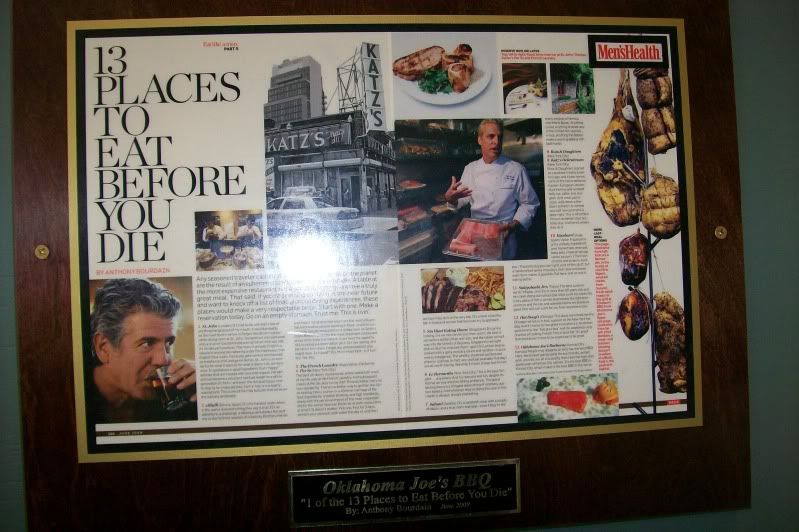 i however felt like the line might be the wait when half way threw i see this. An article proclaiming the top 13 places to eat before you die, of course featuring Joe's. Eh, big deal so its some locals favorite spot.. oh wait, who wrote this? Anthony Bordain? ok now im REALY hungry and looking forward to this meal.
still more line...
the HANDS DOWN best bbq/ pulled pork sandwich i have EVER eaten. i almost feel guilty it was so good. and yes im totaly serious. daaaaaaaaaaaamn.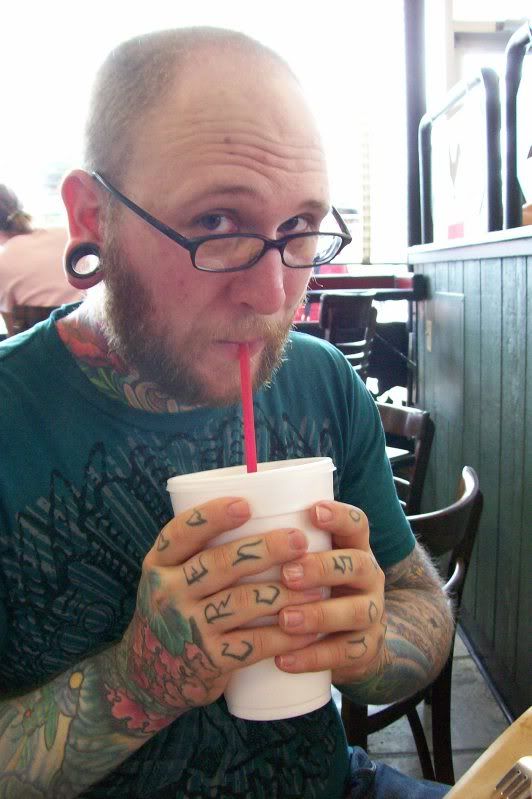 had to quench that thirst from waiting outside in the 100+ deg temps, this tiny jug of soda aught to do it! the backs of my hands are about 4 1/2 inches wide if that helps you all scale that cup!
a not at all quick drive to Little Rock Ark. followed, and a coma of sleep followed that.
after a day or so of chilling out and doing some wedding stuff we went shooting with Sarahs family. typically not that big of deal, BUT! it was Sarahs first time ever shooting! I had told her that until she could shoot a gun safely and make good gravey she just wasnt marriage marterial. I guess we can check this one off the list!
how exciting!
Sarah's dad showing her how to shoot a pistol.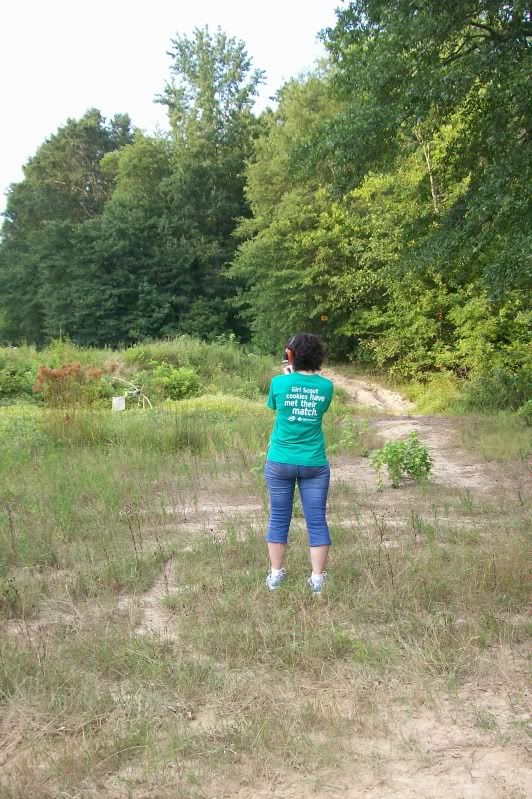 bang! bang!
rifle? check. pistol? check. AR-15? well lets just get this scope focused.
check!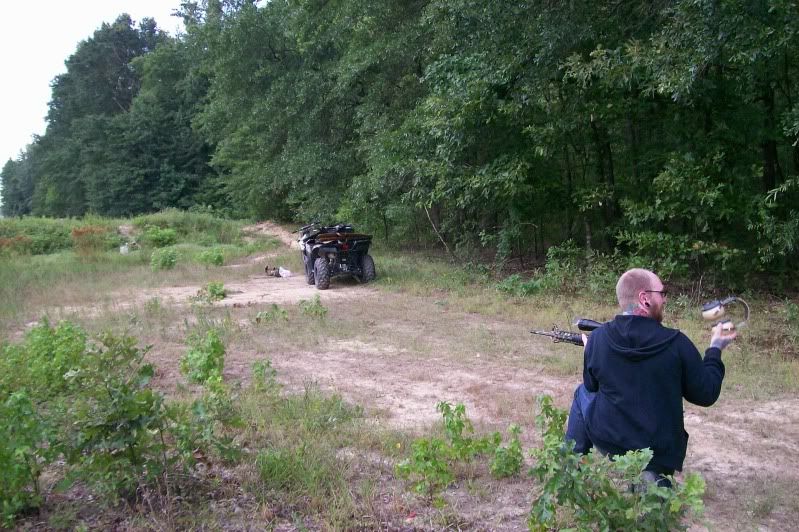 figured id give it a go as well ;)
so far a pretty good trip :)
ill let you know how the rest goes haha.