So Sarah came up for a few days this week and we had a couple pretty rad days.
here it is extreemly abreviated with photos and stuff :)
this video kept popping up in my head all weekend haha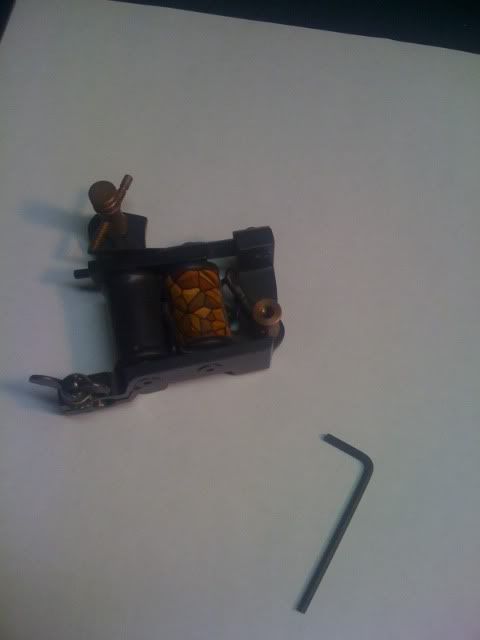 while i was waiting for sarah i show up i decided to take one of my tattoo machines apart and try to lighten it up, the website says it only weights 8.5 ounces, but dang it feels like a preety heaving 8.5 lately. so i figured i wasnt getting any younger i should just chop some weight off of it.
so yeah a little wordy, but thats were i started off.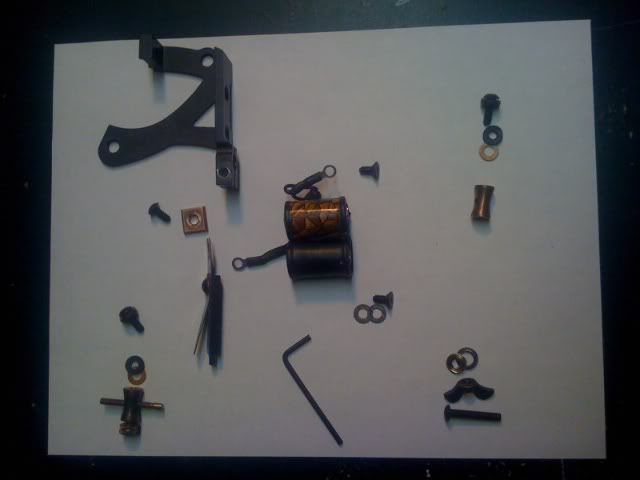 torn apart and layed out so i wouldnt have to pick threw it all when re assembling
the process pix before this turned out preety boring, i basicly tore it all apart and marked were id like to drill some holes. i figured that thats gotta make it lighter and who dosent like lightening holes? comi's thats who! you a comi!? didnt think so, lol...anyways i didnt have a drill press so i just did my best with a super duty hand drill. i got 5 of 6 holes right on the money and missed one by a smidge, but hey it lets you know a human did it right?
any how after that i took it to a bench grinder to knock more off. the bottom deck stuck way out and seemed like a completly random chunk of heavy, originaly i was going to just slice it off but ended up putting a little more time towards it and popped a big hole in the section and then just ground the extra material off into a radius echoing the hole i drilled. i think it looks a little fancier :) any how in the pic above you can see were some of the black heat treating was nocked off during all that.
here you can the result of a whole lot of sitting there with a dremel tool, i took off the rest of the heat treating and rounded most of the sharp edges off the frame. i think the result is a more molded/cast/hand made look then the crisp lazer cut edges it came with.
and here you can see the rounded off corner/hole i was talking about a little bit before.
here it is back together :) i realy enjoy the look of brass and bare metal, along with the texture differences betweent he frame and the heat wrapped black coils/capacitor/wires. seems to be running great, just a little noisey. but im happy with it...
aaaaaaaanyways sarah showed up and the next morning we went over and looked at the 1939 ford standard tudor ive been looking at buying for a while so she could take a look at it. it ended up taking an hour or so to get out of there because, well car guys seem to be a chatty bunch :) but sarah did manage to sneak away and talk antiques and what not with Ron's wife and get some lemonade.
we grabbed some burgers and shakes and headed to sioux falls after that, figuring dinner and a movie would be a good time. we ended up stopping in tea south dakota along the way at the recomendation of our 39 ford freinds to check out a few antique malls.
this is some of the radness we found there, thank goodness we had fueled up on milkshakes or i think i would have just passed out from sheer 'stuff' over load ha.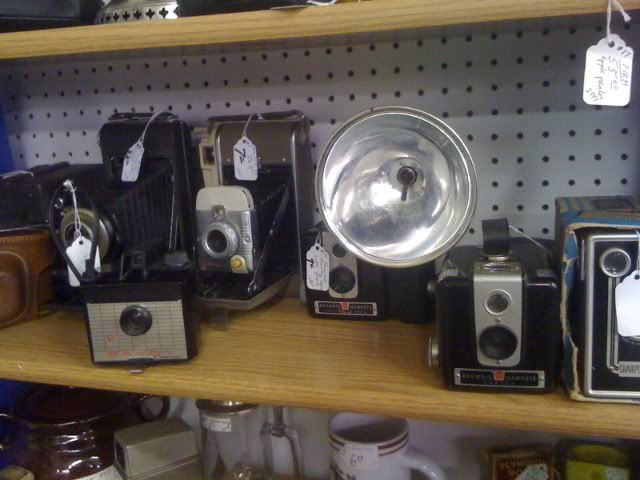 not even half the cameras i found, thought clay would dig these
some cool asian art for the shop? a little spendy :S maybe later
my love of book shelves also includes cool cabinents...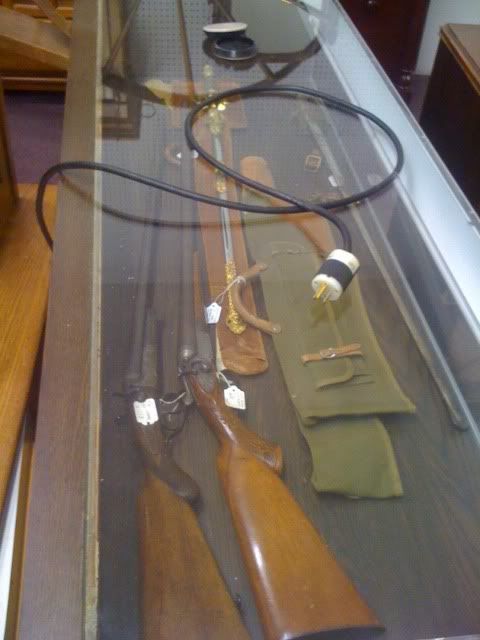 swords!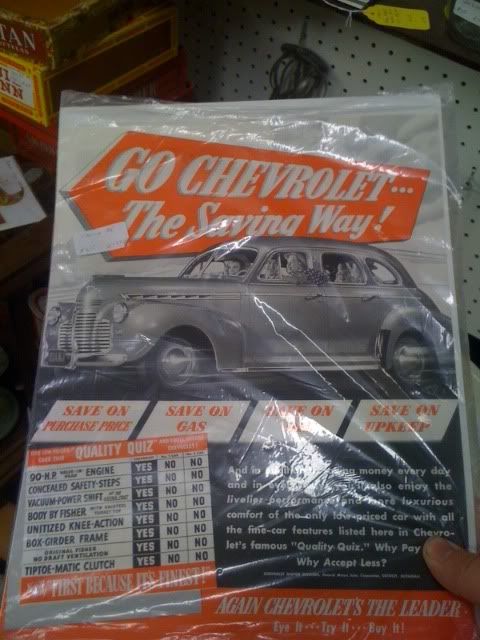 cool old car advertisment for what seems to be a 40's chevy. even talks about how fuel efficient it is!
i loooooooove skulls, rams are even towards the top of my list but at $350 im gonna just make a mental note and pass on it till later. we did however find tooooons of deer sheds, two MASSIVE buffalo skulls, a moose rack and a HUGE elk rack for $150! im kinda thinking if i can figure out were i could put it and how i could get it there i may go back haha
this tiny radio was so neat, if i recall correctly is was made by crosely<-- same as the car maker? either way it was blasting led zep, so very cool $75 :S the first place was kinda spendy, the second not so much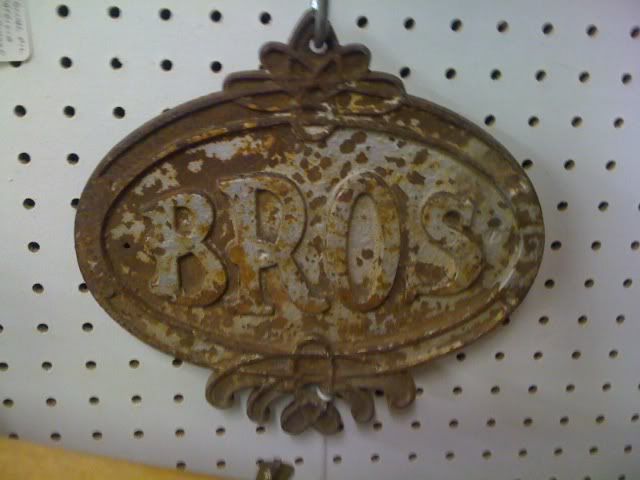 right? haha, thing was way heavy
ill spare you the photos of outboard boat motors from the late 50's and show you....
more cabenets
cool right?
right! ha
also cool this fancy cash register...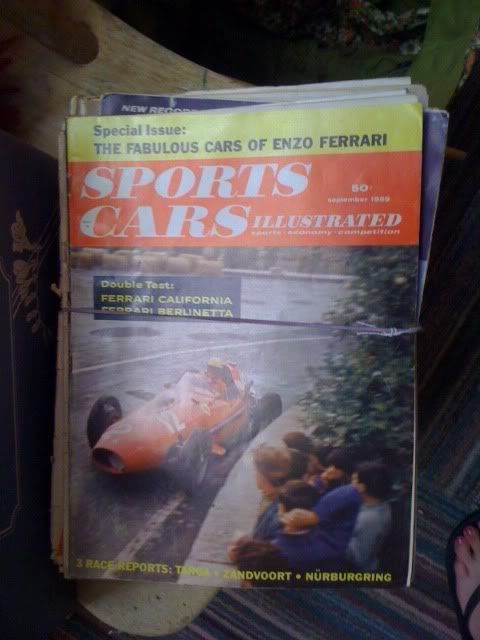 and this stack of spart car magazines that were older then my dad!
awesome :D
then we went to the mall and sarah got some much needed coffe and shopping time, kinda suggestive dressing room doors dont cha think old navy?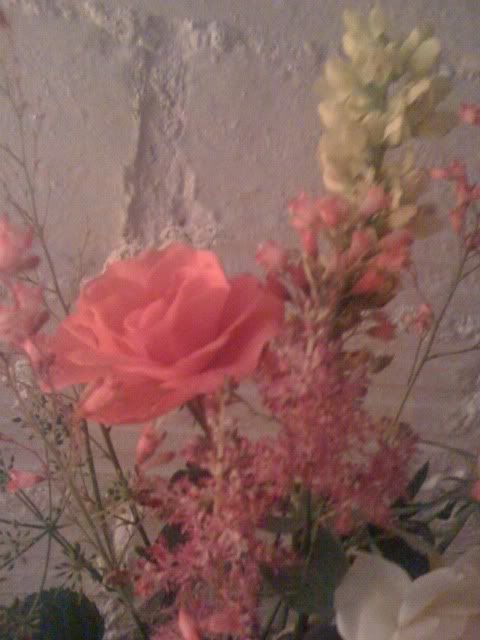 suuuuuper preety roses that go along with what ill come back to at the end....
ooohhh suspence!
fast forward and after a preety eventless but good day at work i noticed quite a few old cars and hot rods moving down the road, i thought maybe i was a poker run?
i rounded the corner into akron and looked down the main street, car show! all the preety colors sparkling in the sun! you bet i pulled over :)
i dont generaly dig on MG's but there were quite a few there tonight and i couldnt help thinking itd be a blast to roar down a back road in one of these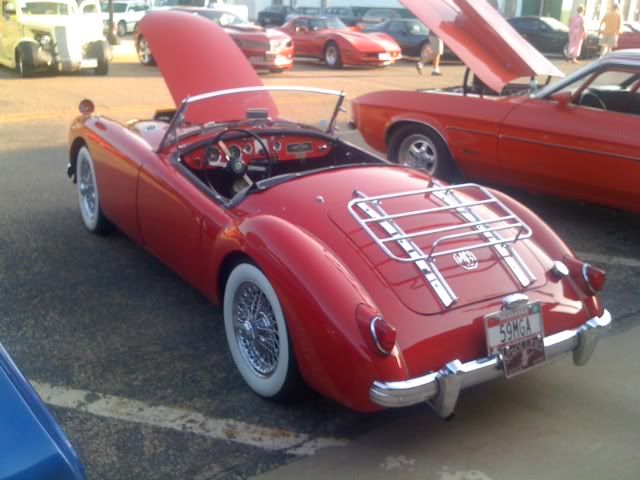 i noticed after a few steps that this was a tristate criusers meet up. so technicaly this was a cruise in. out of all the different kinds of car events i dig cruise ins quite a bit. its ususaly people from all over, you got it, cruising in to a central location. the tri state cruisers arent so much a club in the traditional since but rather for 4 months out of the year they meet up every other wednesday in a different town to fill up the main street with cool cars, get some burgers and ice cream at a local place and chill out.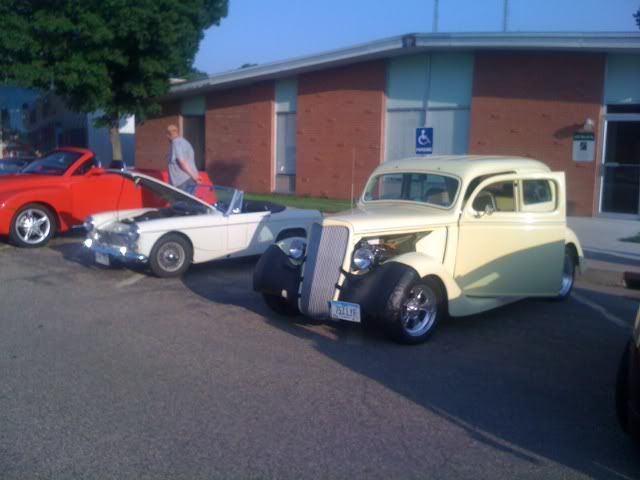 another MG behind this 35 ford i took a pic of for Sarah, the light was funny so it was difficult to get a decent iphone pic sorry :\
this chevy was probably my favorite car i saw, id seen most of the cars there preety regualrly as it was only 12 miles away from were ive lived for decades but id never seen this one!
it seems to be a preety serverly chopped 54 chevy 210 with a 54 chevy grill spliced with a mid 50s mopar, maybe desoto? grill center. neat touch
the inside had the dash out of a 59 chevy impala and some cool upholstery, didnt realy dig that once you got close the gray fabric was actualy tiny hotrod flames in patern but whatever..
looks like he might have snagged the tail lights from the same chrysler that the grill came from. i cant quite place them but im going to say they are from 1956 and they sure seem mopar-ish to me.
THANKFULLY this guy knew that you dont open the hood on a custom car. whats the point of making all flow and look perfect and then leaving the hood gaping open? who cares whats under the hood? across from it was a 50 merc that is just gorgeous but the guys ALWAYS got the stupid hood open showing off the great big caddy motor he shoe horned in there. i get it, vroom vroom, but its a custom dude. if you want to show off your motor get a hot rod.
custom are for picking up girls, hot rods are for leaving them behind. if you want to look cool leave that hood shut ;)
another MG! they sorta remind me of ferris bueler era ferraris in the size/quirkyness department.
so yeah some preety awesome days :) i cant wait to bring my kids to car stuff its going to be legend... wait for it...dary, legendary!
oh ok fine, whats with the flowers back there?
i asked the best girl ever Sarah to marry me, and with a sigh of reliefe from me she said yes :)
best. night. ever. :)
so happy :)
ill let her fill you in on those details i suppose over at her blog over there-->
"sarah baker being crafty" i think is what i labeled it :)