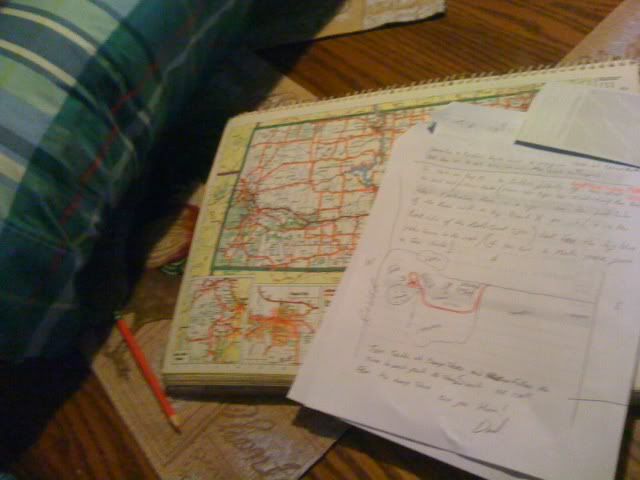 ~~ out of the norm i wrote this all on my phone as it was happening, and when i sent it to myself it pushed all the words together. so rather then take the better part of my afternoon taking it back apart i just kinda cut it into paragraphs at random to make it bearable to read again to some extent. so if the breaks are sorta random sorry. also, with so many photos i think ill just post them in chunks to look at theyll be in cron order. sorry for a bit of a disjointed post but oh well :)~~
So with the memorial day weekend already in full swing when i got off work I headed home to pack and hit the road.
As I was leaving this morning my dad had called me and asked if I'd come camping with him and one of his friends for the weekend out around the fort randal south dakota area. So when I got home I packed real quick, like I always do, and got back in my car.
What's packing real quick you might ask?I grabbed my favorite pillow, stuffed two t-shirts, a book I've yet to start, my phone charger and a sketch book into the pillow case and called it good!
I also grabbed the atlas and two pages of maps/ directions my dad made up for me. Looks like my fondness for scribbly maps is genetic, haha.
I was pretty stoked to find it 7 pm Saturday night when I got on my way, my favorite time to drive. Why you may ask? South dakota public radio has a couple shows I always like listening to, the rock garden tour. This week they talked about vegetables. And a show I think is called recycled sounds is after that.
A hundred or so miles heading west on county highway 46 chasing the sunset and watching the landscape slip past I ran out of signal as I hit hwy 50 and a twist of the dial I found a central south Dakota public radio station that had a blues show just starting. Good luck on my behalf:)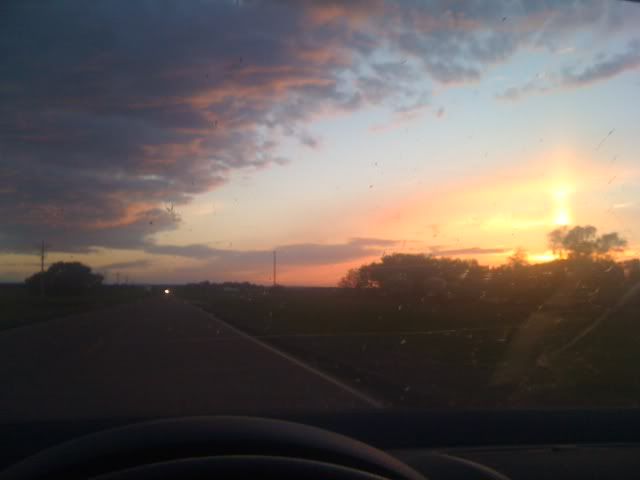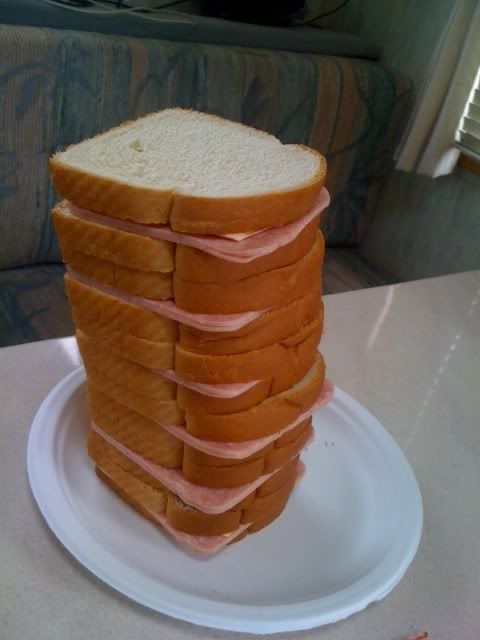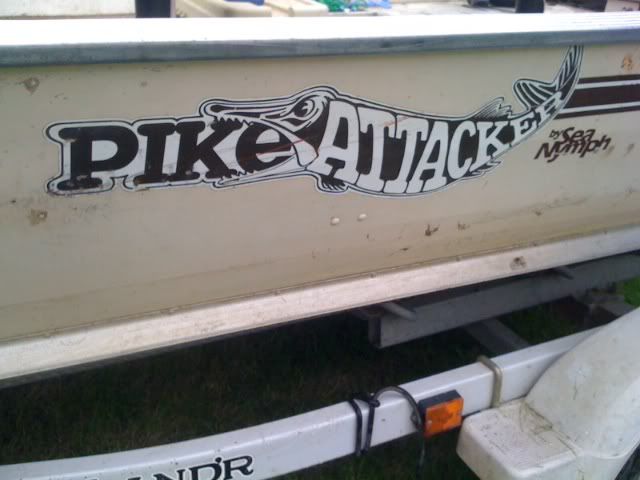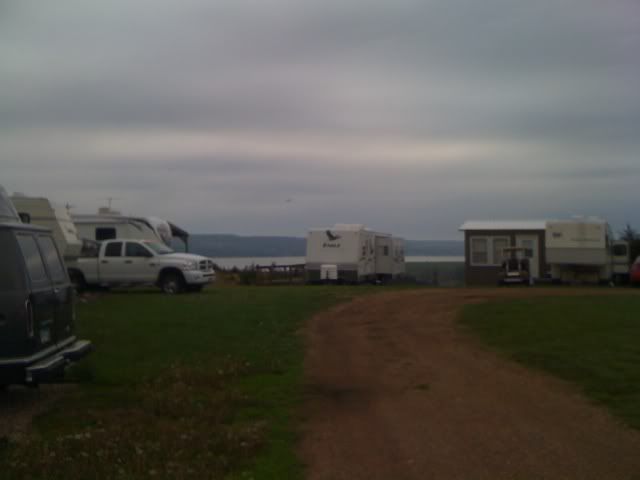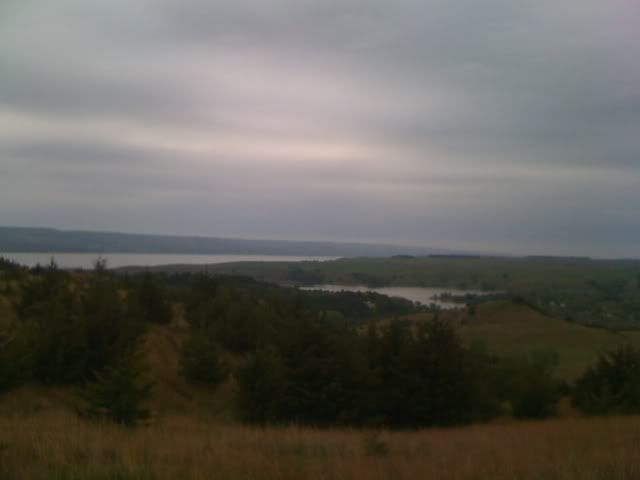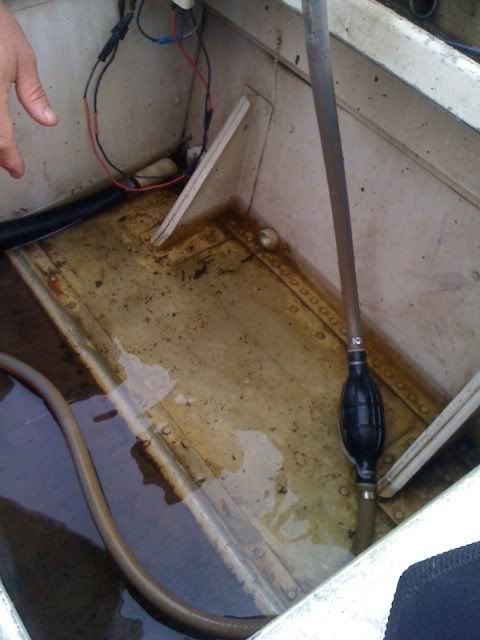 A few 'slightly missed' turns and I made it to the camper just as the sun disappeared. The guys were watching the tail end of inglorious basturds. I'd missed the grilling action for the evening so I made myself a summer sausage sandwich or two and settled in.
Seems like it should be a fun couple of days, hopefully the morning doesn't come to soon and I can get some good photos tomorrow.
Day 2:
For a bed made out of two bench seats and a table top i slept surprisingly well. Though I suppose that the fresh air and the sound of the rain driving agains the side of the camper helped a bit. Either way by 6 I was awake and by 8 I actualy got up. Ted and Dad were getting ready for the day and I decided to take my share of the busy work. I decimated a loaf of bread making us enough sandwiches to last the afternoon and then started helping bail water out of the boat.
We're not sure if the cover was lose or what but a good 7+ gallons came out of the drain once we backed the boat down a bit of an incline. All of our gear accounted for... There's fishing related, mine lounging related, we doubled checked the trailer and headed out. Evidently the area right near our 'camping' spot, yes with ' ' because honestly flat screen tv's, a roof and running water are about as far away from roughing it as you can get without just staying home.
Anyways, the spot closest is pretty busy and congested so we headed to a smaller dock to get onto the missouri. Most of the drive was on sand roads cutting through gorgeous landscapes. I'm trying to take good photos but between it being overcast with a phone camera and trying to just live life and enjoy it instead of just 'viewing' it I don't know how well I'm doing. Either way super pretty, and I'm told most of what we drove through/past has never been broken. Yeah broken like never tilled or turned over or farmed. EVER. Pretty cool. Most of the soil out here as indicated by sand roads is pretty soft/sand based so the only use can can really get out of it agg related is as pasture for your cows to wander and munch on. Made it down some spiraling roads to the dock and a quick spark plug change and test firing the motor we hit the water! So far so good.
Staying close to shore as the rivers very full and choppy and we are in a small boat. But still relaxing. Headed past some cool drift wood into a little bay and it looks like the water is exploding! There are at least a dozen great big carp spawning. I can see a pair right now that are both well over 3 feet long and they are coming a good 6-9 inches out of the shallow water they are in. You can look around and see the different sets splashing around with there dorsal fins sticking out of the water like sharks, sometimes even a few inches of there backs popping out as well! Well after all that we pulled the motors up and paddled into the shallows were the carp were spawning, it was like the water was boiling. Very cool, I tried to get photos but a phone photo is a phone photo and it just didn't really convey the scene worth while.
Anyhow fish swam up so close to us we could reach out and touch them. I mainly saw golden, slightly orange, carp about 20 inches long and a few gar. But dad saw a great big white carp swim up next to the boat that he claimed had to have been 3 plus feet! After catching lures in trees, grass, sticks and every other thing dad caught the first, the last, and the only fish of the day! Haha just a carp but it was fun.
With the wind picking up and the water getting choppy we headed to the dock. Back to camp we started up a fire for dinner, Ted couldn't keep his hands off it. Messing with the logs every few moments. While dad sliced up some potatoes and along with some salt and pepper wrapped them in tin foil. He tossed them into the fire along with a can of beans. Of course he couldn't just leave them alone so sometimes we ended up with both dad and Ted in the fire!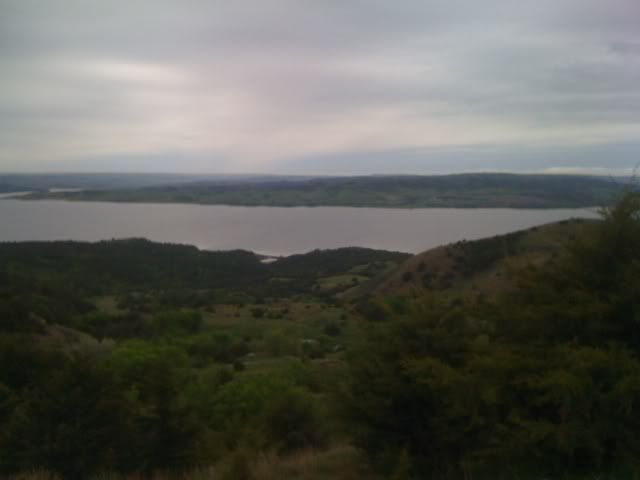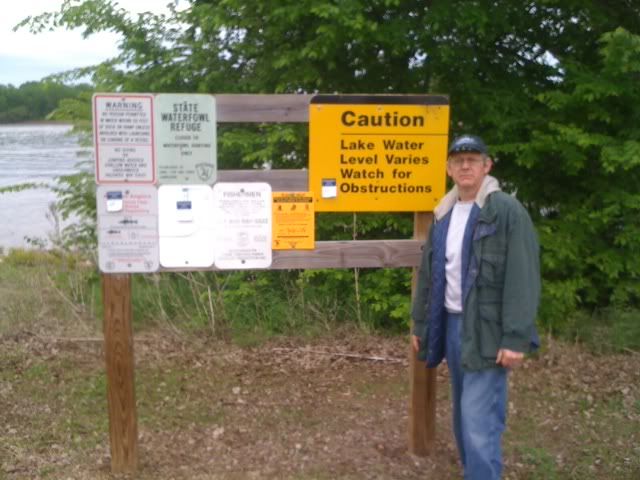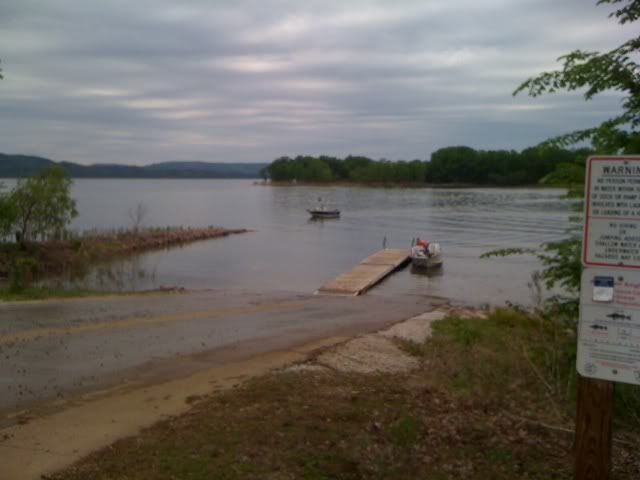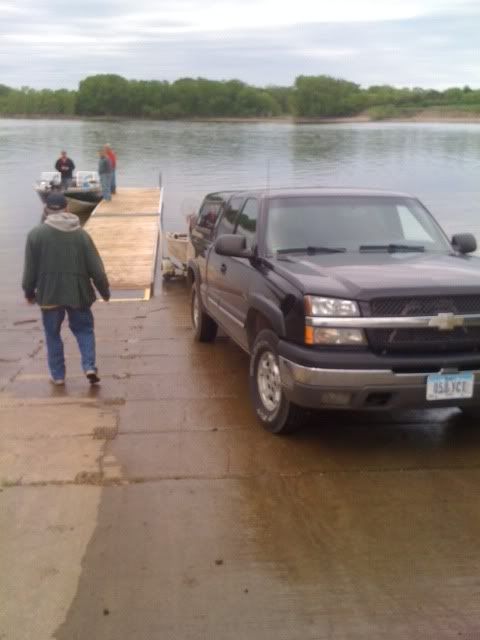 Dad potatoes in hand, and Ted hatchet in hand! Haha. After the fire evened out we threw a grate on the fire ring and tossed our steaks on. It took a while long then anticipated as the wood was brutally hard so splitting it required a sledge hammer and an axe. This epic hardwood also seemed to burn forever. So eventually we got our steak cooking fire and had dinner... And then I three some brats on the fire for, umm, dessert? Haha I took some photos but they don't seem to have saved on my phone, but boy I tell ya. Perfect was how those brats turned out.
A little smoke in my eyes and I'm laying down listening to the guys watch a movie trying to figure out my day for tomorrow, paying bills the next few weeks, my upcoming and still a little hazy trip to Portland, and thinking about how I seem to miss Sarah an aweful lot this weekend.
Day 3: Back on the boat after an uneventful night other then Ted stepping on his keys in the middle of the night and setting his trucks alarm off. Horn honking and lights flashing like crazy. We stumbled around for a minute and hit the road back for the river. On the way the radio weather reports told us that a rain front/ severe thunder storm was going to run up on us from the west early afternoon possibly hitting a cold front in central south Dakota producing some tornados.
That in mind we are keeping close to shore and an eye on the sky even though the water is nearly flat as glass and the sun out strong making the early morning fog light up like a blinding cloud. It's almost like when you go snow blind in a blizzard. So with my back to the sun we're bouncing lures off the bottom at about .7 mph for a couple hours and I hope to hit the road around noon for home. It's been a good time but I'm more then ready to go home, I haven't really had time to do anything productive out here and it's nagging at me a little.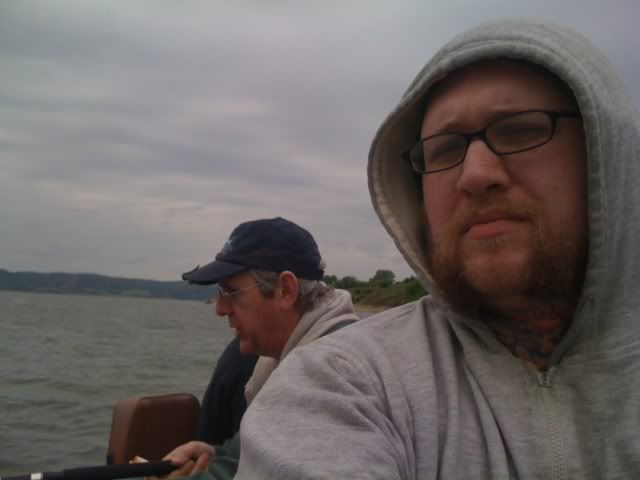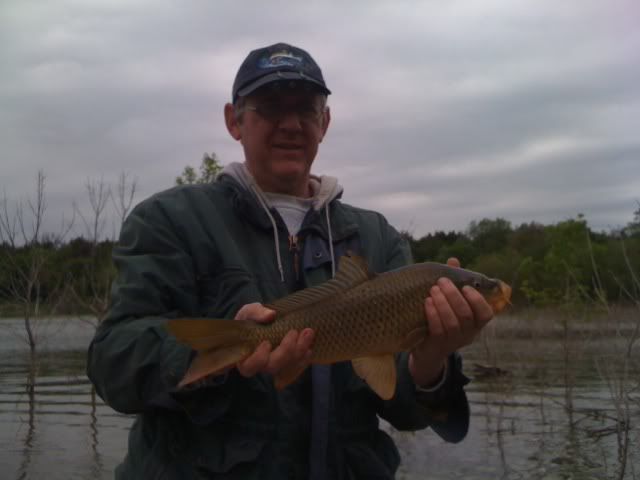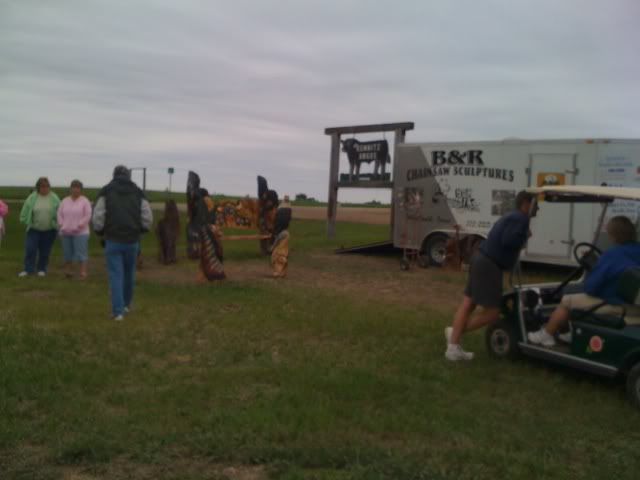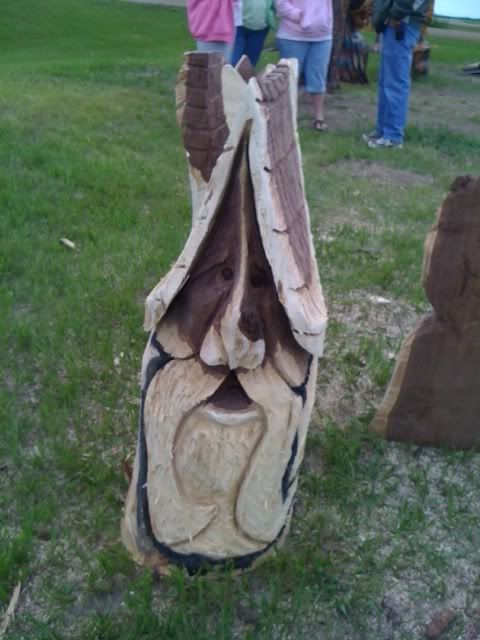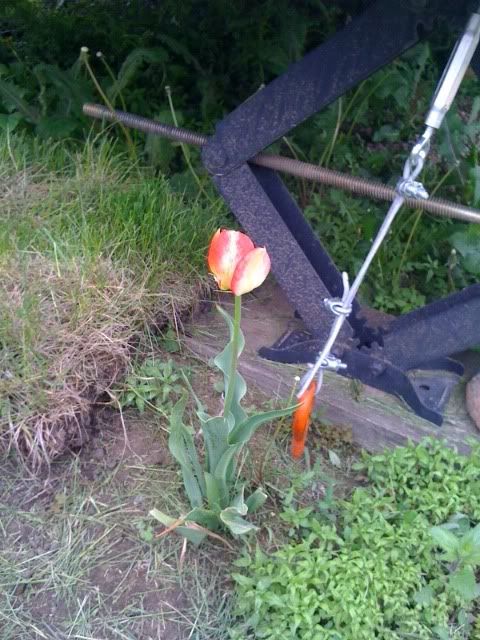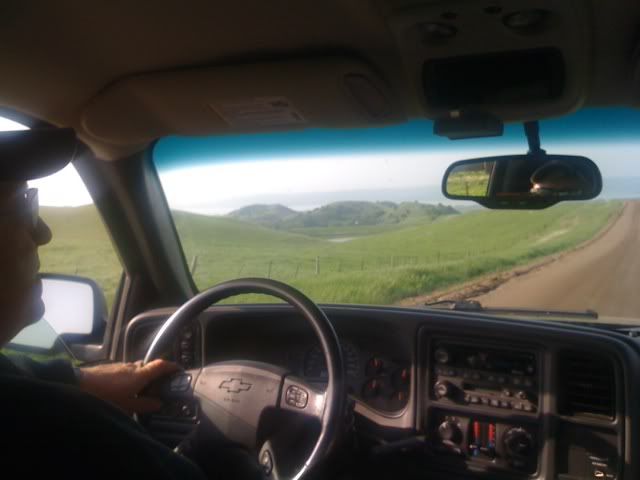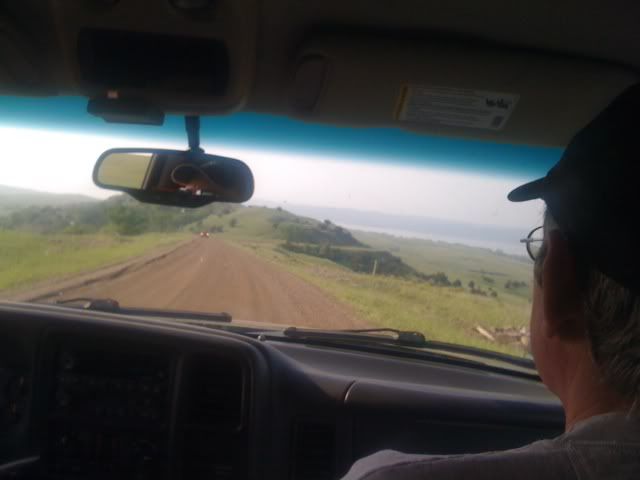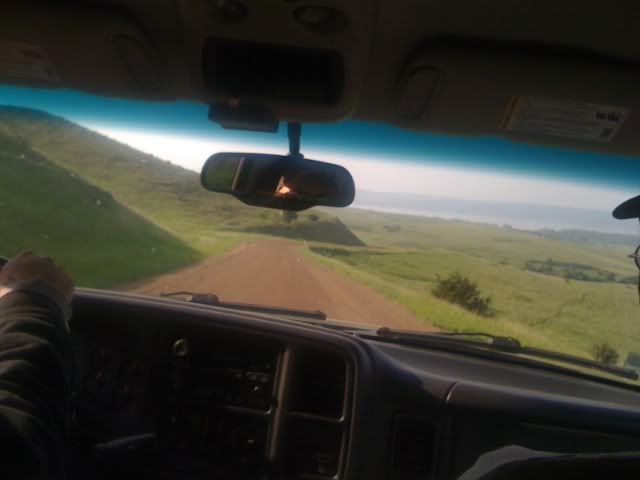 Though I'm looking forward to Sarah and I having kids and taking them camping in a tent and campfires with them. I'm thinking some fried chicken sitting on my front porch watching it rain tonight while sketching sounds pretty perfect. Guess we'll see how that turns out a bit later. Random notes: I forgot my toothbrush I think I'm just used to going places that I have another brush at haha. I forgot extra money so I could buy a snack on the way home, butI'm Brooooooke so whatever I'll live. And at 9:58 in the morning I really would like a cheery jam filled donut or 3 haha.
an uneventful drive home in some blistering warm heat listening to a radio show talking about a new book called 'darwins dark side' and i made it back.
grabed a few burgers with charles and watched the storms rool in on the porch. not a bad weekend :)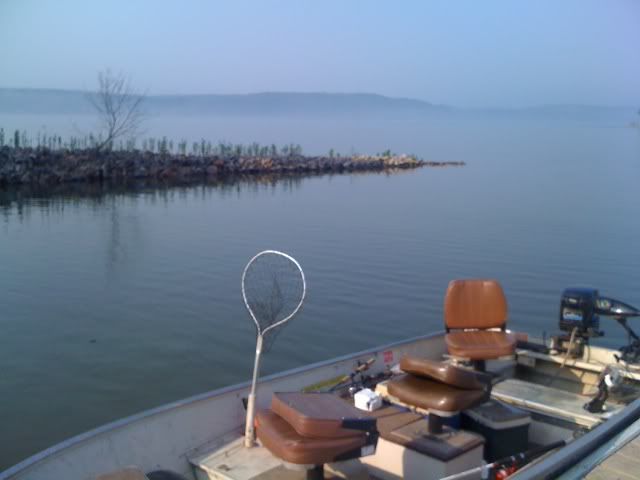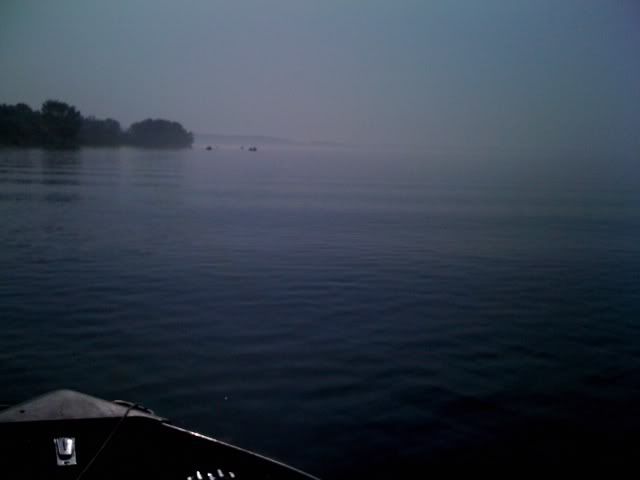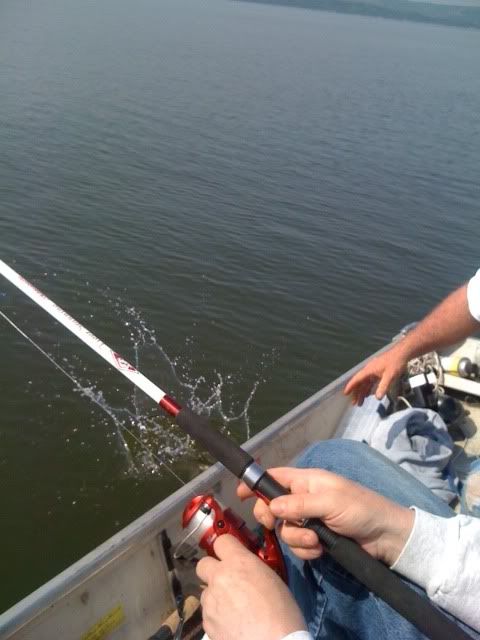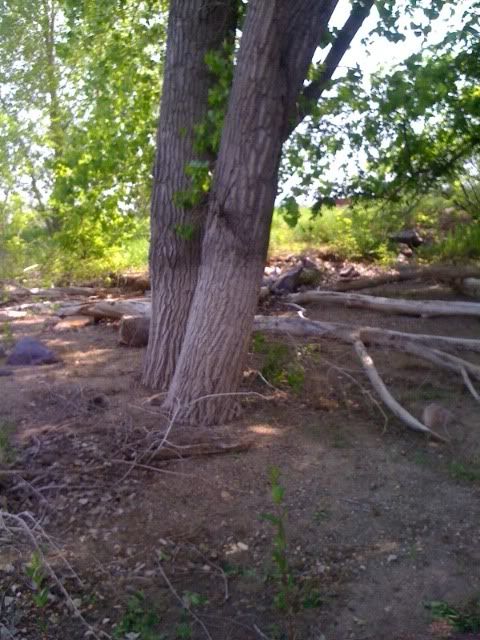 trees with tan lines haha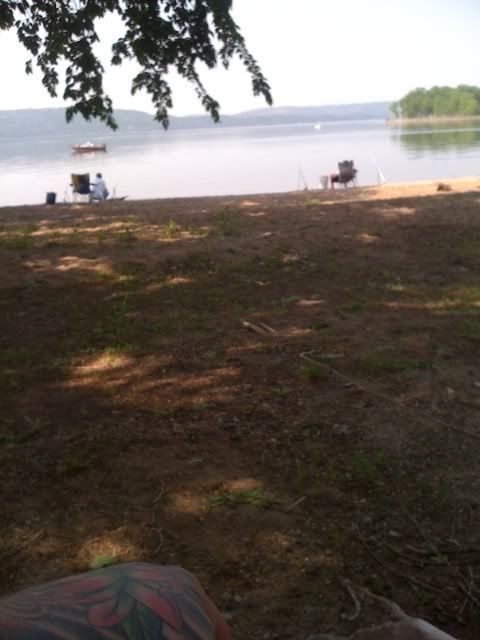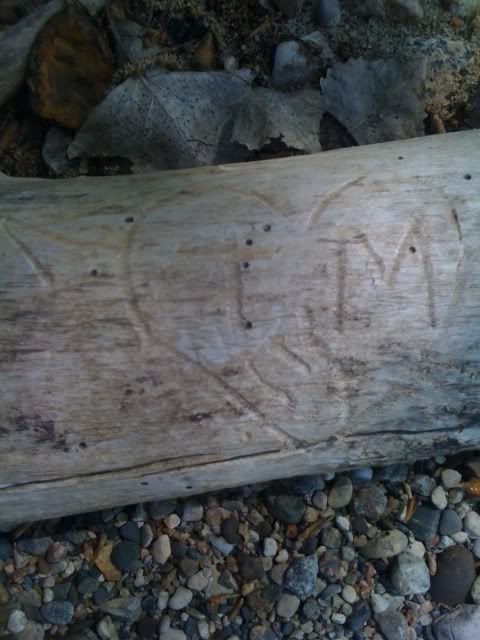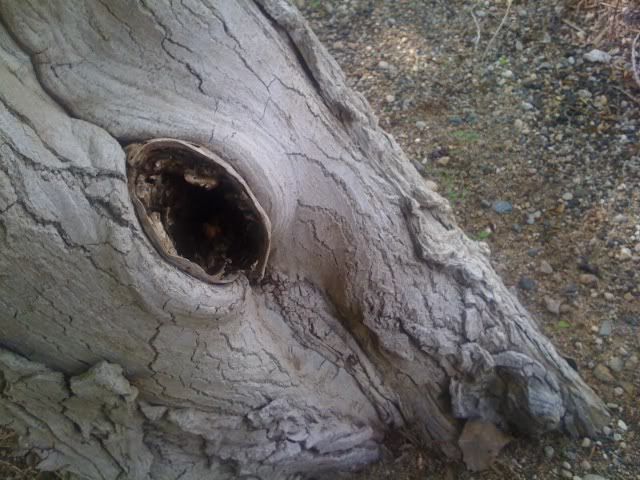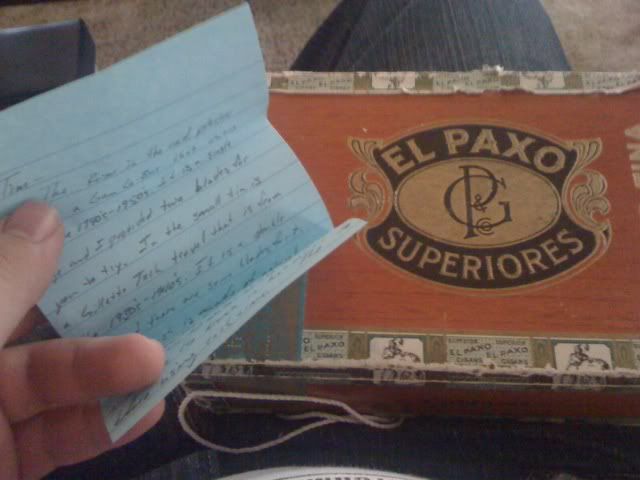 !oh, and my brother put together an awesome straight razor shaving kit for me in an old cigar box, the majority of the components look to be from around 1940, im preety excited about it :)