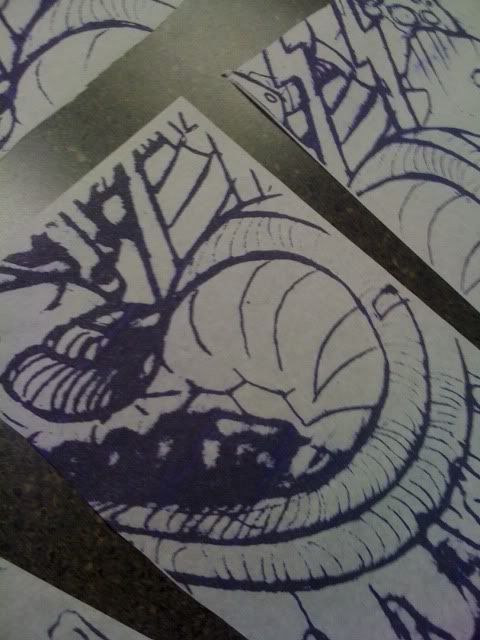 so what to do on a day alone at the studio with the day turning cloudy and your drawings all finished up?
blog update of course!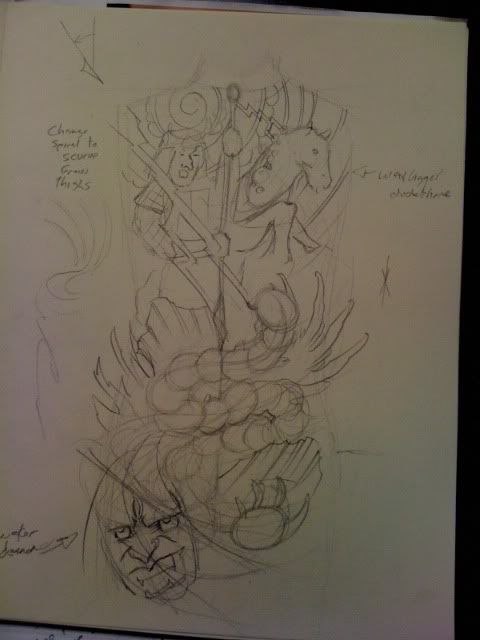 first off is the original rough sketch for Zachs back that i left out of the last post.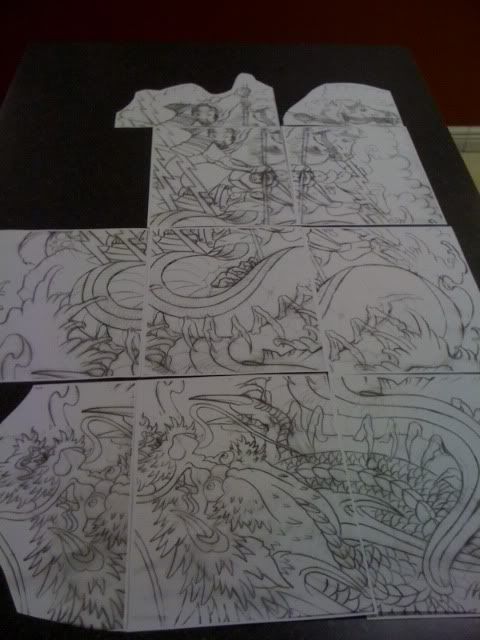 and post my last update this is what i got to work on, i took my refined image and sized it up to actual size. this time using my print preview screen so i wouldnt waste quite so much paper in making such a large print.
after trimming them to avoid an excessive amount of overlap i fed each section threw the thermofax machine. using up nearly 8 full sheets in the process. its a BIG tattoo.
i trimmed it all up and sat it out in order so i would be easyer to put on the following day. with that many pieces saving any amount of time is welcome.
i had gone back and forth between putting it on all seperate or as one massive sheet and landed on both! i lined up and tapped the majority of the samurai, horse, and clouds together an then applied the rest in segments. which realy worked out the best as some of the lower bits needed tweaking to fit his anotomy better any how and would have ended up being torn off the larger sheet anyways had i gone that way.
stuck it on and drew a little more on, he has a pre existing tattoo on his right upper arm with clouds and lightening that is unfinished. so i decided to pull in that lightening and ect into the back to make it all come together.
and here is the progress after the first sitting!
a good six and a half hours of actual tattoo time, not a bad sitting.
we got almost everything i wanted to get lined done other then the very top back ground work that we will start in on next time. you can see it drawn on in the stenciled on photo.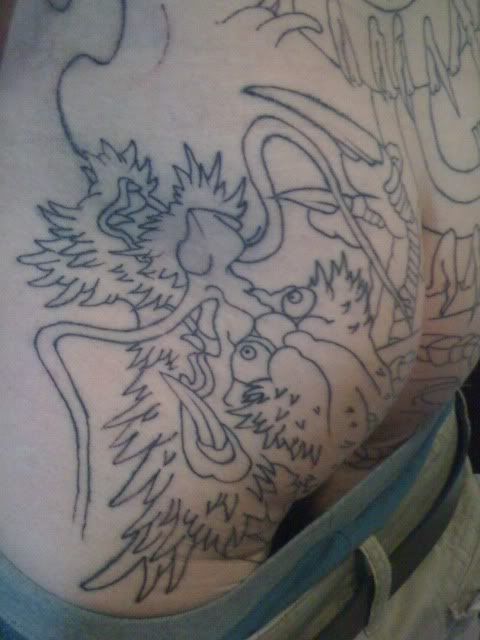 and of course you know it goes lower then the belt, but ill just give you a 'sneak peak' until its more along.
we have about another week and half real time before our second sitting so can expect a third instalment in as much time :) i plan to line in all the upper back background we didnt get to and get all of that layer filled in with black and gray.
and i suppose thats enough for one update, see you again soon :)