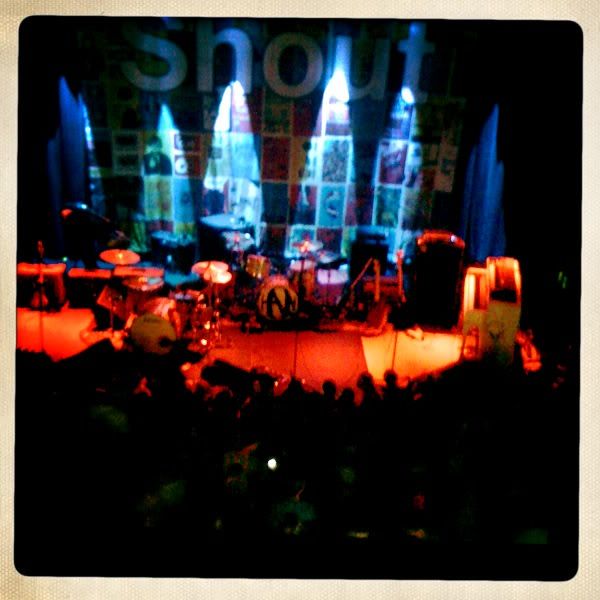 well shit, I went to the Hanson show with my girlfriend and was pretty quickly found out. I've pretty much always liked Hanson. My massive knowledge of random information even includes random Hanson knowledge only a few select straight men would admit to knowing.
but you know what, i don't care. this new album is great and makes me want to dance around like a total loser. which i did along with a billion girls on Sunday lol.
you can only go to a concert and pretend you don't know all the words for so long.
anyhow, one of the songs on the new album has a video out right now that mirrors a pretty rad scene from a blues brothers movie so you should look at the link below and enjoy :) also, if you've never seen the blues brothers movies i have one question for you. how can you read this blog from under that massive rock?
and yeah, weird al playing a tambourine? pretty great.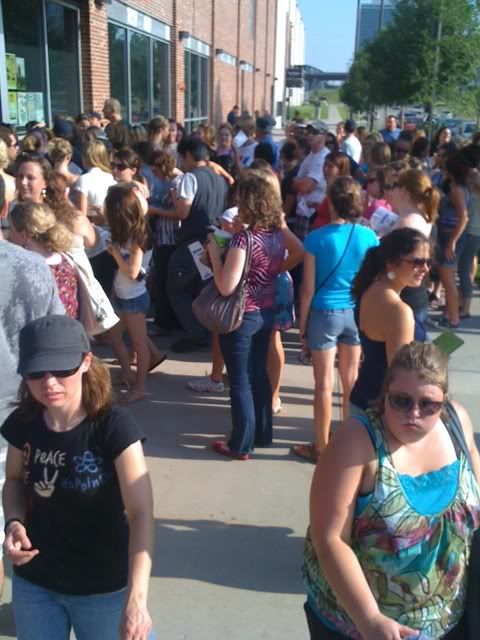 we showed up before the doors opened and there were tonnnns of people waiting!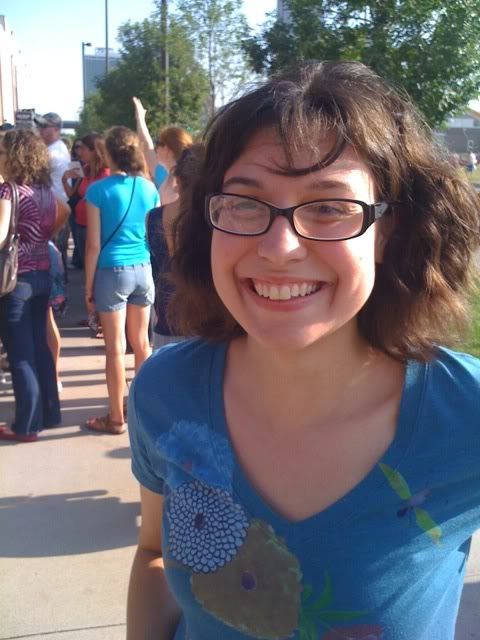 Sarah was pretty excited as well, only a few days after her surgery she was absolutely not missing Hanson. there were even people on crutches waiting in the endless line. it was so hot i felt like i was showering under my shirt lol.
they saying smiling is contagious, in that case i think terminal depression could be cured by a Hanson concert. i don't think I've ever been around so many epically happy people ever. and not in some obnoxious way either. it was just so much positiveness. i feel like a total loser for saying it, but its helping make life a bit easier with all that's been going on.
alright enough of that, haha.
.. ok one more, you should go vote for the video on vh1's webpage. And for people wondering why you don't hear them on the radio much, they refuse to license their music to any station that clearchannel owns for some ethical reasons? so there's that. don't for real this time. promise.
the day after the show i worked on finishing up mikes super rad owl tattoo. my phone was dead so i couldn't get a decent picture so you'll have to just trust me that this phone pic my friend took is a really crummy representation. we have one more sitting so ill post a better/finished pic then :)
the next day i relaxed a bit and started getting ready to fly to Seattle on Thursday morning. I also attempted to get some work done on some paintings.
this is the second layer on the layering experiment i started a few weeks ago. im just kinda picking at it now and then. im not very practiced in painting with watered down pigment on watercolor paper, so i tend to over saturate the paper and just make a mess being so used to painting with thick layers of acrylic on masonite panels.
i took a break to visit Charles at work to see how he was doing. with all the surgeries ~ Sarah and my dad in the span of 3 days~ and traveling i havnt been able to hang out with him for a while.
i also took a minute to tell him about these awesome "Q fries". think nachos and bbq had a beautiful baby. haha.
layer one: home made steak cut fries
layer two: freshly smoked brisket meat
layer three: melted cheddar all over that :)
layer four: a tasty mix of honey and spicy bbq sauce.
soooooooo goood :)
lol i promise to post something that isn't meat heavy...someday :)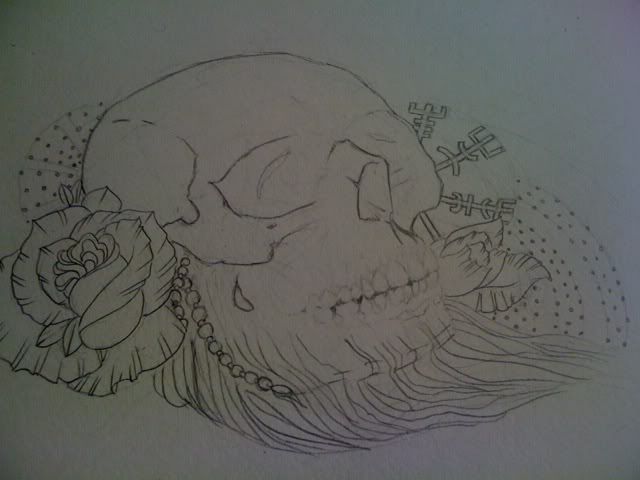 We decided to hang out after he was off work for the day, so with an hour or so to kill i started a drawing for a tattoo idea ive been bouncing around in my head. I've a client that's given me nearly a full lower arm with only the instructions of it being nordic, viking, norse. and "heavy" feeling. sometimes things look better in your mind so i started mapping some things out.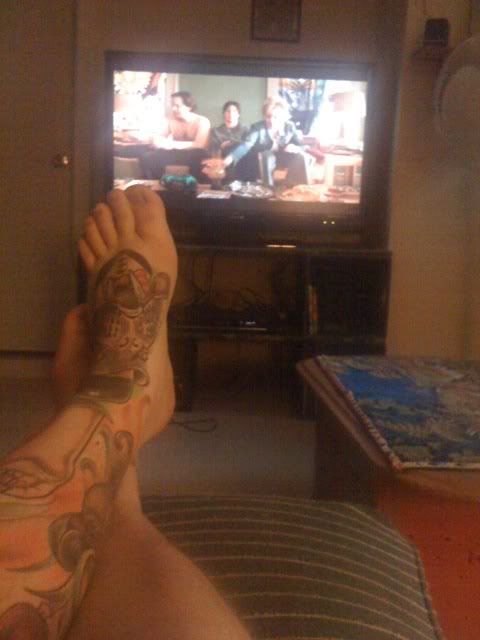 Charles made it over and we watched Garden State for like the trillionth time.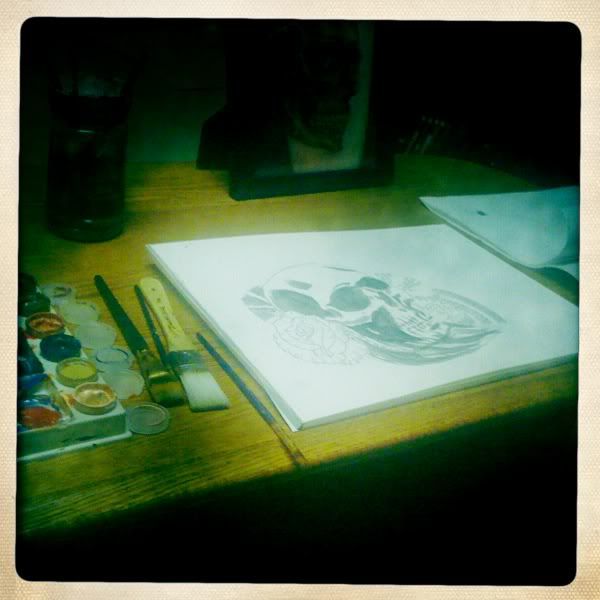 and i kept working on the bearded viking skull, nordic compass, roses, dot work idea.
it turned into a giant blob of paint but it looked good right here, ha. either way i wasn't really into the way that it was all starting to lay out for his arm. He's having Gunnar <- yeah that epically talented Gunnar tattoo his other lower arm so im really trying to make this tattoo over the top. waaaaaaay over the top. i want people to see both forearms and ask about my tattoo. haha, its a challenge for certain.
so with that i think we're caught up! im flying out tomorrow to Seattle Washington, via denver and spokane because i bought my super expensive tickets a little last minute :S, for the seattle tattoo expo. its always a great time and a great town.
i will try to post every night with my day, but after upgrading my os to the 4.0 my phones been a little finicky so hopefully all goes well and you can see what im up to :)