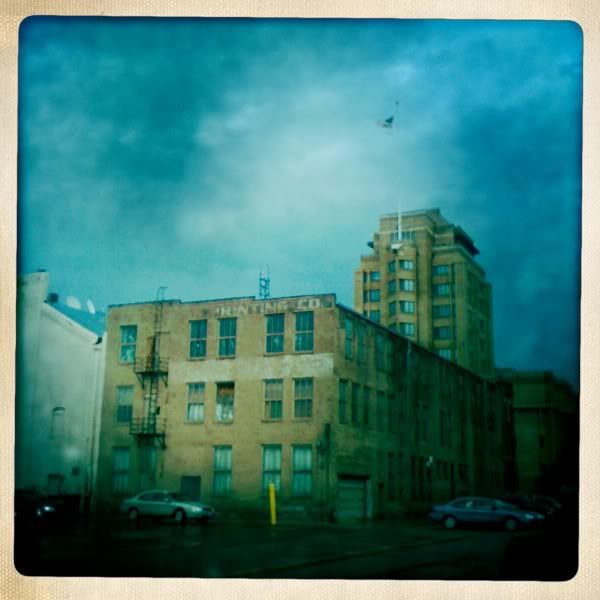 Blog day two:
Well my Tuesday-Wednesday weekend was over so this morning I packed up my stuff and headed back north and back to work.  And I got a whole block away before I got a phone call reminding me of the 27 cans of spray paint that I left behind. So a quick trip around the block and I was on my way, for real this time though.
I saw this fella outside of a gas station near council bluffs, and seeing how my car happens to run on dinosaurs I pulled over to fuel up and snap a shot.
I got to work a bit early and snagged a super tasty smoked cheeseburger from the BBQ trailer that is across from the studio on week days. Www.yourhouseofq.com should link you to him, soooo good. Nothing compliments a rainy day like smoked food :)
Well maybe a smoke break Sean decided.
Having had an appointment reschedule to tomorrow I had some rainy day time to kill and scribbled up a skull, fire, roses combo. I generally change how I'm drawing roses about every six weeks, this round I've been focusing more on the shapes of the pedals rather then the overall compositions or centers. I mixed it up a little today using a photo reference from  my yard and drew some roses that were more closed then I would normally draw them. I think that working on this phases could help in future compositions as the stem and thorns are more focused on so I could use them in place of were i might other wise use some fillegry, or some sort of neuvo-ish flourish. 
After my last appointment I cleaned up and headed towards home. I've got a 42 mile drive home from work every day so it definitely  gives me some time to think. I've got alot of things in progress but not quite ready to post, and I didn't really want to make posting past projects a norm. It seems a little counter productive to my goal of being more productive. However nothing to exciting happened today so I thought I'd post about my first ever BBQ competition I was involved with last Saturday. That's close enough to current to count right? Under 7 days?
Yeah I think so.
So one of my best friends Charles, Aka the butcher... Because, well he's my butcher haha. Any how Charles and I are giant food nerds waisting tons of hours glued to the food network, taking food focused multiple day road trips and trying to cook new yummy food.
Now as lovers of BBQ and spice when we heard that our town of Hawarden was having a rib cooking competition we new we had to get in on it. After a meeting with all the involved teams we found we were each cooking a minimum of 50 pounds of 9 back slabs of ribs. 
Realizing that we wouldn't have a rig large enough to smoke that quantity we opted for a grill/ oven process. And we started early. 
This was my view at hours only seen by me in extreme situations. You know, like biscuits and gravy or bbqing ribs :)
I had to tattoo a few people so after we had our marinated, grilled ribs placed to cook in the oven I took off to work. Charles ran back and forth between the two houses when I was gone keeping an eye on things and his dad helped him get everything set up at the event.
I got back into town just in time for the gates to open and among all sorts of fancy smokers and tents I found charles
We had a great time, the weather was wonderful and we had nearly twice as large of a turn out as expected!
Here are some random photos from the evening.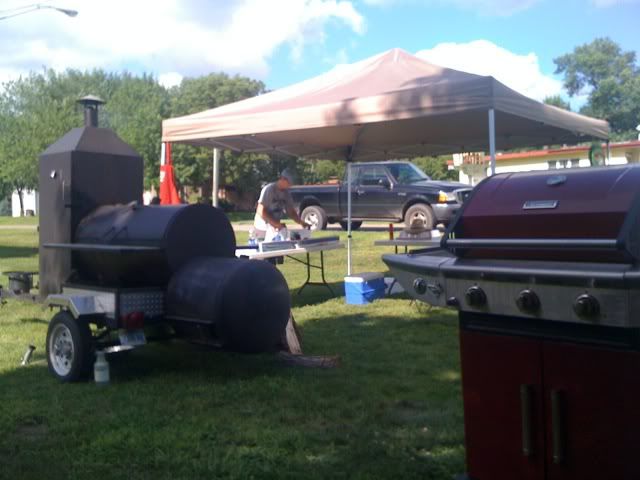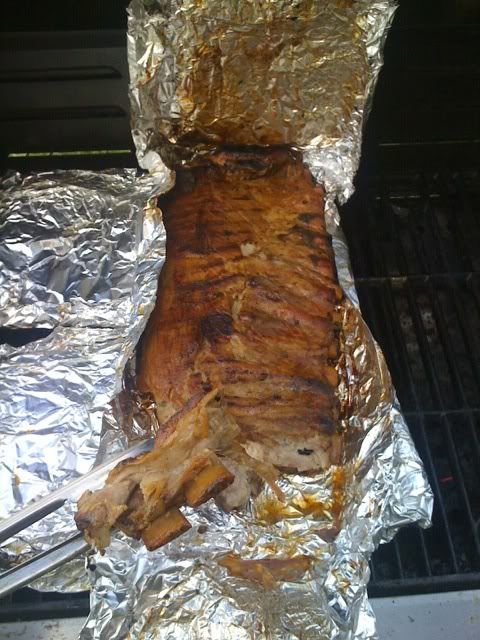 Knowing that it was a crowd vote it was hard to pick which way to go with the ribs. We didn't want to go to bold or spicy as we were trying to please the masses not a panel of judges, and over all we ended up a scant 3 votes short of third place out of 12 or 13 teams! Awesome! I had a great time and can't wait to go bigger and better next year. Hopefully I'll have the whole day off next time so I can be more active instead of a great sue chief. Still fun though :)
Alright that seems like enough for tonight, I think I'll go draw.