sorry for the delay, for not being super busy i don't seem to get a moment to sit down and update this super often lately. maybe I'm busier then i think i am?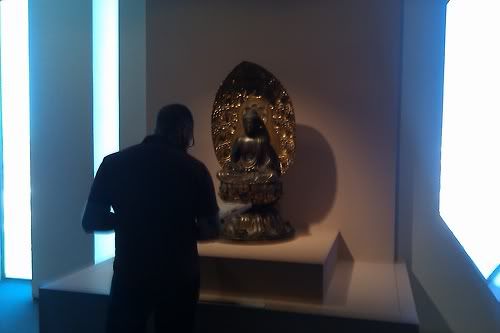 any how, this is a little back logged update in photos/captions as i haven't much to just straight out chat about. hopefully it doesn't get to awful long :)
picking up on our denver/boulder/holyoke adventure i saw a bit of 'crochet' graffiti! i guess these ladies are fairly well known in the area and even have work in the D.A.M. ~ denser art museum ;)
speaking of incredibly awkward shaped buildings here is the D.A.M. :)
and this is the only thing i took a photo of in the entire place! haha.
other then this shot of denver out of one of the stairways. yes, you heard that right. not only did we walk about a million miles in denver we also took the stairs!
id like to pretend the stairs was us being healthy but in truth it was thefirst saturday of the month which evidently is a free day to the museum so there were thousands of people in the place. and. well. we just dont like people that much so the stairs sounded like a good idea. until the elevation got our thighs burning anyways.
i lied, more pictures haha.
when we got back to my brothers house my brother wanted to take some pix for our mom. turns out Cameryn is anti photos. that little girl smiles HUGE constantly until a camera comes out and then its all tongue out and funny faces. even if its a phone camera!
raina in the mean time was being absorbed by the couch!
matt and i rescued here and we went grocery shopping for breakfast. they say a smaller plate= smaller portions so i figured smaller cart...
i did up some little smokies on the stove.
and took some spy photos of cameryn not making faces while she was distracted by a mobile :)
when i came back matt had started in on making some omlette's. for a recently ex vegan he sure can whip up some tastey eggs :)
demonstrating proper form. while looking rather impressed, ha.
before headed out back to the road home we snapped a quick shot of the three of us. matt, jon, and i. it doesn't matter if your a vegetarian, a tattoo artist, or a cowboy if you've gotta beard you've gotta friend :)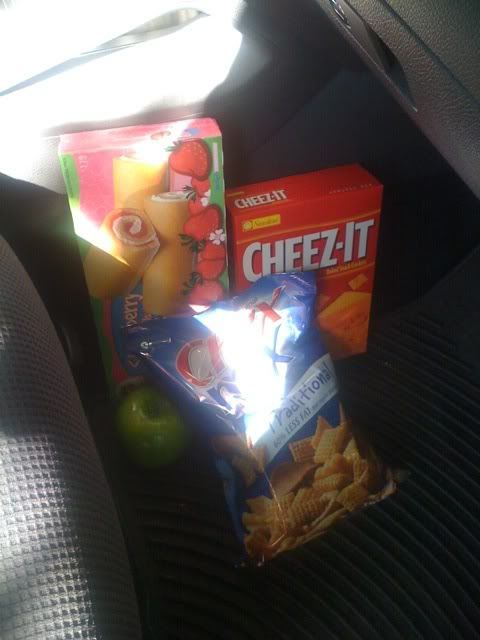 what do newly ex-vegans eat on there first road trip after a life with out cheese you might ask?
when i got home the new window sign was up at the shop and i started to get everything a little more set in place. we ended up having to open nearly 2 weeks later then planed while we waiting on autoclaves, spore tests, and health inspections to be process and show up in the mail. but it gave us time to get a little more situated.
the space is incredibly warm, open, comforting..and ridiculously hard to get a good photo of. so here are whats going to have to tied you over for the moment. the rooms walls don't reach the ceiling so it should make for some interesting perspecives for photos in the future.
the feat of taking photos was so exhausting in fact, that i stopped for some food. i've been trying to find and try out small places in this new~ to me~ area of town to eat. there are alot of chains but i did notice this Chinese place on the corner. i snagged one of there afternoon specials for $7. they deliver so i can see this becoming a habit once it gets colder in a few weeks.
ok back to taking photos..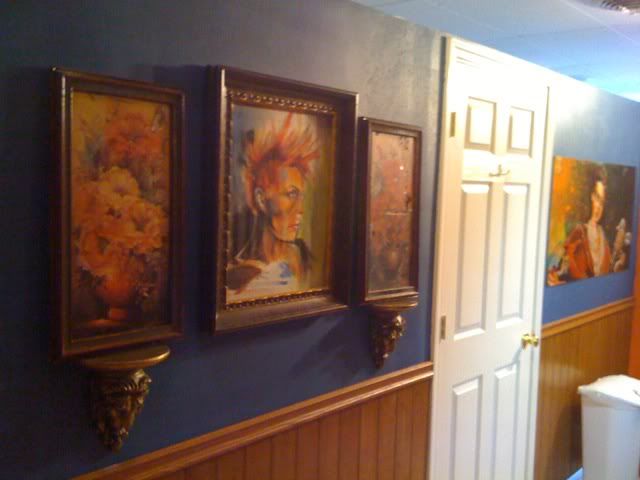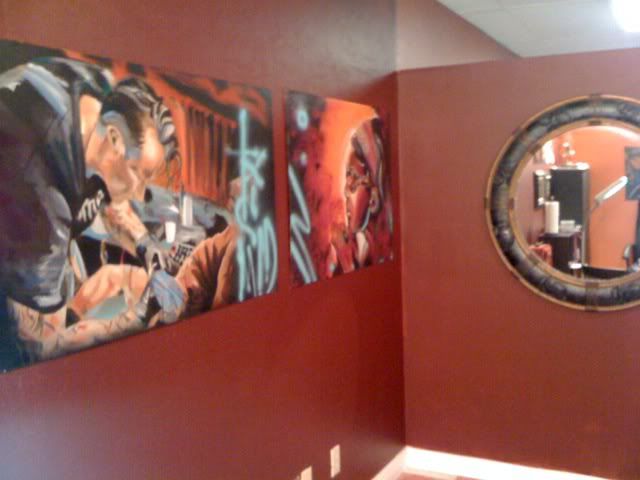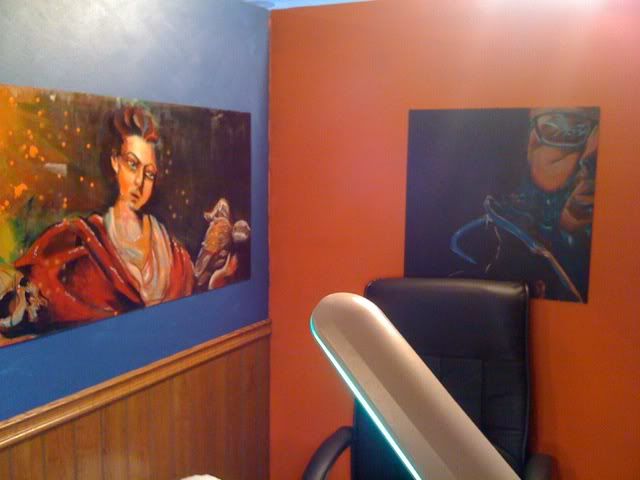 with a little practice i can see taking some photos over the walls with a fish eye lens producing some nice shots.
but these will have to do for now, ill post more photos as i can of the rest of the space. its pretty big :)
on my day off i took a few hours an managed to get a decent coat of wax on my car before the nasty weather hits. i love shiny black cars :)
after my 'weekend' i came back to see that the new over head light up signs had been installed that morning. having nothing that says tattoo/ piercing on the front for a while it definitely made us realize a private studio would not be all that fun.
i took more progress photos along the way but this has already been a fairly phto heavy post. so a little before and after is what i'll post of these halves of a sidewalk sign i made for the out front of the shop. we are a super busy main avenue so i figure something readable from the street would be a help in getting people to know where the new shop is located.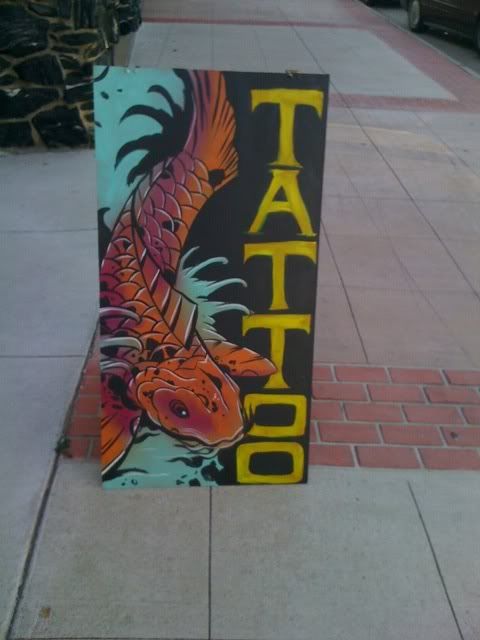 nothing to fancy, but it aught to work.
one of the first people to get tattooed at the new shop was dave, we finished up his lower sleeve/hand of a dragon and mask. I'm having a hard time finding a spot in the shop to take a decent photo right now, but i suppose if it looks good in a crummy picture it should look great in person right? i think in the future we will set up a dedicated area to take tattoo photos with a back drop and what not.
a glared shot of the other side. fresh tattoos are so incredibly hard to get a good photo of.
mike stopped in before the he heads to Canada, Egypt, and then Europe with the band. we knocked out the first sitting on his lower arm and will do the second pass in a few months when hes back for more.
sarah rewarded herself for making it through a week of tests with a new itouch and had to test it out, taking a photo of her cat voodoo and her skull. well, not 'her skull' just the one she owns ;)
to celebrate further she came up for the weekend and we headed to la Juanita's for some amazing burritos and Mexican food. i was busy as normal so we headed to a park gazebo and ate it in the nice evening weather.
and i think for the most part that catches us up!
the shops name is Addictive tattoo, located on @ 4018 morningside ave sioux city iowa. its right across from the mcdonalds, and you can find the shop on facebook by searching for addictive tattoo for more info.
its been a little slow, as should be expected with a new shop. but as more and more people find were we have moved to its sure to keep getting busier and busier! what i know for sure though, is im way happier working at the new shop.
thinking about this for my new cards?
and ill leave you with a link to the first of Jeff Gogue's video blog from when he was in japan with shige. there's about 12? videos. all very well put together and interesting to watch. those two are definitely my major inspirations right now. i suggest you check them out :)